You are here
Mother's Day Recipes from RAMMYS 2018 Pastry Chef of the Year Finalists
Mother's Day RECIPES FROM 2018 RAMMYS Pastry chef OF THE YEAR FINALISTS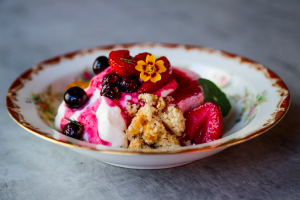 Frozen Raspberry Yuzu Souffle
with Sesame & Blueberries Recipe
by Chef Pichet Ong // Maketto
Serves: 8
"When local berries come into season I instantly run out for them, especially after a long stretch of winter and exceptionally cold spring this year. It is also a time that my mother likes to go out and choose her own berries – often indecisive as to which one – or ones. While she has a sweet tooth like me, having dessert is a rare indulgence since she monitors her sugar intake. With this low sugar added recipe, and turning them into frozen soufflé, she can store this special treat in the refrigerator – and pull them out like ice cream – to be enjoyed for an extended period of time.
My mother tends to keep things simple – just the soufflé part would make her happy. But the pastry chef in me likes the composition of simple fruit compote, whipped cream, and a cookie to round out the dish with textures.
Chef's tips: Fresh yuzu lemons sometimes can be found in Japanese markets and frozen or bottled yuzu juice is available in both Asian markets and specialty stores. You can also substitute lemon juice, preferably from Meyer lemons, or a combination of lemon and lime juices.​"
Frozen Raspberry Yuzu Souffle ​Ingredients:
2 pints Raspberries

4 tbsp Yuzu Juice

1 tsp Powdered Gelatin, Bloomed in 2 tbsp of water

Zest of 1 Lemon

3 Egg Whites

1/3 cup + 2 tbsp Granulated Sugar

1 cup Heavy Cream, Whipped (Kept Cold)
Directions:
In a pot over low heat, bring raspberries, yuzu juice and 2 tablespoons of sugar to a simmer, cooking until mixture is thick and sticky at bottom of the pot, and temperature reaches 325 degrees F on candy thermometer​

Remove pot from heat, stir in gelatin to fruit mixture, and transfer content to a large mixing bowl and zest lemon on top. Let cool completely.

Whip egg whites at medium speed until soft peaks (about 5 minutes). Continue to whip, gradually add 1/3 cup sugar for 30 seconds, then turn up to high speed and whip to stiff peaks for 1 more minute.

Use ½ of the egg white meringue to lighten the raspberry fruit.

Fold in whipped cream. Then fold in remaining meringue.

Divide mixture into 8 molds lined with plastic wrap overhang.

Cover the top of the raspberry soufflé with the plastic and freeze mixture for at least hours before serving.
Chewy Sesame & Ginger Cookies ​Ingredients (Yield: 20 cookies):
1 Egg White

1/2 cup Confectioner's Sugar, Sifted

1/4 tsp Salt

Zest of 1 Orange

Zest of 1 Lemon

1 tsp Vanilla Extract

3/4 cup Sesame Seeds, Toasted

1/4 cup Candied Ginger, 1/4" Diced
Directions:
In a bowl, whisk egg whites until frothy for 1 minute. Add sifted confectioner's sugar and whisk until thick (20 seconds).

Whisk in the vanilla, salt and fruit zests. Fold in the sesame and candied ginger.

Drop 1 tablespoon mounds on a baking tray lined with parchment paper.

Preheat oven to 350ºF and bake for 4 minutes. Turn off oven with cookies left in and let oven cool down for 20 minutes.

Remove from the oven and separate cookies from baking tray using an offset spatula to run under the cookies, holding down the baking paper.

Let cool completely before storing them in an airtight container. May be kept at room temperature for up to 10 days – depending on humidity, the cookies may soften but still be crusty outside and chewy inside.​
Yuzu Roasted Blueberries ​Ingredients:
1 pint Blueberries

1 tbsp Granulated Sugar (Optional)

2 tbsp Yuzu Juice

1 tbsp Vanilla Extract
Directions:
Toss all ingredients together in a roasting pan.

Cover with a larger sheet pan or aluminum foil, and roast in preheated 350ºF oven until blueberries pop (about 10 minutes).

Remove cover and continue to roast for 4-5 minutes more until mixture is thickened. Let cool in pan. Refrigerate mixture until serving.
Assembly:
Whipped Cream

Herb of Choice (eg. Mint or Dill)
Directions:
Unmold frozen soufflé by turning it on to a serving bowl.

Plop 2 tablespoons of cold whipped cream on the side of the soufflé, then 2 tablespoons of roasted berries, and crumbled ginger sesame cookies.

Enjoy!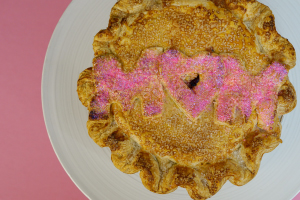 Strawberry Rhubarb Pie
by Executive Pastry Chef Naomi Gallego // Buzz Bakeshop
This pie is also available for preorder from Buzz Bakeshop!
Pie Dough ​Ingredients:
7.5 cups All-Purpose Flour

1lb 12oz Unsalted Butter, Cold, Cut into Small Cubes)

1 tbsp Salt

1 tbsp Granulated Sugar

Zest of 1 Lemon

Mark of 1 Vanilla Bean

1.5 cups Water, Ice Cold
Directions:
Cut butter into the dry ingredients using a pastry knife or using the paddle attachment of your mixer until the butter resembles pea sized pieces.

Add ice cold water and flavorings all at once and paddle until the mixture comes together, but do not over work.

Make three packets of dough about 1/2 inch thick, wrap in plastic wrap and chill.
Roasted Strawberry Rhubarb Filling ​Ingredients:
1lb Rhubarb, Cut into 1" pieces

1lb Strawberries, Halved

10oz Granulated Sugar

2oz King Arthur Instant Clear Gel

Zest & Juice of 1 Orange & 1 Lemon

1 Scraped Vanilla Bean
Directions:
Preheat oven to 330ºF.

Combine all ingredients and toss to coat

Divide mixture onto two half sheet pans and roast in the oven for about 30 minutes, stirring occasionally until fruit is roasted,




and mixture has thickened.

Allow to cool and store in refrigerator overnight.​
Pie Assembly:
Preheat oven to 375ºF. Roll out one packet of pie dough fairly thin, about 1/8 inch thick. While the dough is still cold, cut out the letters MOM or cut out flowers for pie decoration.

Place cut out decorations on a clean pan and keep chilled until needed.

Roll out one disk of pie dough large enough to hang over the edge of the pie dish or pan by about an inch. Brush the edge slightly with egg wash. If the dough is getting too soft and difficult to work with, chill for 30-40 minutes before resuming preparation.
Roll the remaining disk of pie dough the same size.
Fill the pie shell with enough pie filling to have a slight mound in the center. You may not need all of your filling, you may reserve any remaining filling to eat with ice cream or freeze for use at a later date.
Place the pie dough topper over the fruit and quickly press the edges to form a seal.
If the dough is longer than an inch, you can cut it back with scissors.
Crimp the edges up around your fingers into a wave patter around the pie.
Egg wash the surface of the pie and place the decoration on top.
To achieve the pink glitter look on the letters, mix a hot pink edible glitter and crystal sugar.
Egg wash the letters and dip them into this mixture before placing on the pie. Cut a small slit in the center of the pie to allow steam to escape.
Freeze the pie for an hour and a half. This helps to set the dough before baking.
Bake at 375º for about 15 minutes, reduce heat to 325º and continue baking until crust is golden brown, about 30-40 more minutes.

Allow pie to cool completely before serving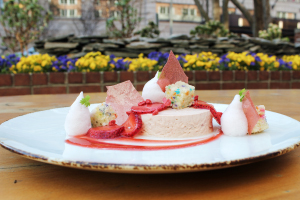 Strawberries & Funfetti
by Executive Pastry Chef Erin Reed // Blue Duck Tavern
Frozen Strawberry Parfait ​Ingredients:
250 g Strawberry Purée

2 tsp Strawberry Powder (Optional)

150 g Yolks

250 g Granulated Sugar

50 g Water

450 g Heavy Cream

1/2 tsp Salt
Directions:
In a small bowl, whip heavy cream to soft peaks

Place puree in a bowl and add the salt and strawberry powder.

Begin whipping yolks until light and fluffy.

Combine sugar and water and heat to 255

ºF

; slowly pour into yolks while whipping.

Continue to whip until slightly cool.

Fold yolks into strawberry purée; then fold in cream.

Pipe into desired mold or glasses and freeze.

Serve with fresh strawberries and whipped cream.​
Funfetti Cake ​Ingredients (1 half sheet pan):
200 g Eggs

630 g Granulated Sugar

580 g All-Purpose Flour

12 g Baking Powder

8 g Salt

320 g Vegetable Oil

450 g Buttermilk

1 tbsp Clear Vanilla Extract

1 cup Rainbow Sprinkles
Directions:
Whisk eggs and sugar in mixer on medium speed for 5mins until pale and fluffy.

Sift dry ingredients, add sprinkles.

Combine milk, oil and vanilla extract.

Add dry and wet ingredients alternately

Bake @ 325ºF with low fan for 12-14 minutes
Strawberry Sauce ​Ingredients:
250 g Strawberry Puree

75 g Granulated Sugar
Directions:
Combine all ingredients in a saucepan and bring to a simmer until sugar dissolves.
Assembly:
Unmold frozwen parfait and place on a plate.

Cut funfetti cake into cubes & pleace a few pieces around the parfait.

Add dollops of fresh whipped cream and berries.

Enjoy!
Lemon Meringue Cake
by Chef & Owner Tiffany MacIsaac // Buttercream Bakeshop
Yields: 1 cake (8-10 servings)
Lemon Curd Ingredients:
1/2 cup Lemon Juice

1 1/2 cups Granulated Sugar

27 Egg Yolks

1/2 tsp Vanilla Extract

1 lb Butter, Softened
Directions (prepare at least 24 hours in advance of assembly):
Combine lemon juice and sugar in a pot. Bring to a simmer.

Place egg yolks in a bowl. Slowly pour the hot lemon mixture into the bowl, while gently whisking until combined. Return the mixture to the pot.

Cool over a medium heat, stirring constantly with a rubber spatula. Be sure to scrape the bottom of the pot so there is no scorching. Do this until it reaches a simmer. Allow mixture to cook for 3-5 minutes at a low simmer.

Remove from heat and add the vanilla extract. Stir to combine. Once combined, add butter, and allow it to melt into the curd. Whisk smooth or use an immersion blender to smooth. Strain to remove any pieces of cooked egg. Refrigerate at least overnight, but up to 1 week.
Cake Ingredients:
14 tbsp Butter, Room Temperature

2 2/3 cups Granulated Sugar

1 1/2 tbsp Lemon Zest

1/2 cup + 2 tbsp Shortening

4 Eggs

1 Egg Yolk (Reserve Egg White for Buttercream)

3/4 tsp Vanilla Extract

3 cups All-Purpose Flour, Sifted

1 3/4 tsp Baking Powder

1/2 tsp Kosher Salt

1/2 cup + 2 tbsp Buttermilk

1 1/2 tsp Lemon Extract
Directions (prepare at least 2 hours before starting the meringue):
Place butter, sugar and lemon zest in the bowl of an electric mixer fitted with the paddle attachment. Alternatively, use a medium sized bowl and hand mixer. Cream on a medium speed for 1-2 minutes, or until the butter and sugar are evenly combined and smooth. Scrape the sides of the bowl to ensure everything is incorporated.

Add the shortening to the cream mixture on medium until combined. Scrape the bowl well. On a medium speed, add the eggs and yolk, one at a time, allowing each to fully incorporate before adding the next. Then, add vanilla. Scrape the bowl well and mix about for 5-10 seconds until everything is evenly combined.

In a separate bowl, combine flour, baking powder and salt. Whisk to combine. In a separate bowl, combine buttermilk and lemon extract. Add half the flour mixture the batter and mix on low to combine. With the machine running add the buttermilk slowly. Mix on medium until fully combined.

Pre-heat oven to 325ºF (convection) or 350ºF (still oven). Divide batter between 3, 8-inch baking pans that have been sprayed with baking spray and lined with parchment paper, (approx. 2.25 cups per pan). Bake for 25-35 minutes or until golden brown and fully set in the center.

Use a toothpick to check the center. If it comes out clean, the cakes are ready. Cool at room temperature then wrap and refrigerate until you're ready to assemble the cake (at least 2 hours).
Buttercream Ingredients:
1 1/2 sticks Butter, Room Temperature

2 1/4 cups Powdered Sugar, Sifted

1/4 cup Heavy Cream

1 tsp Vanilla Extract
Directions (prepare at least 2 hours before starting the meringue):
Place the butter in the bowl of an electric mixer and cream on medium until smooth and creamy. This should take about 1 minute on medium speed. Scrape the sides of the bowl with a rubber spatula.

Add the powdered sugar to the bowl and mix on medium speed for another 2-3 minutes, or until light and fluffy. Scrape the bowl well with a rubber spatula. Slowly incorporate the cream and vanilla extract. Mix to combine, scraping once or twice to make sure there are no thick chunks of butter stuck to the sides.

Use right away, or place in a covered container at room temperature for up to 4 days. This can be refrigerate for up to 2 weeks, or freeze up to 2 months. If using after placing in the fridge or freezer, be sure to bring to room temperature first.​
Honey Vanilla Meringue Ingredients:
1/2 cup Water

2/3 cup + 2 tbsp Granulated Sugar

2 tbsp Honey

1/3 cup Light Corn Syrup

Pinch Salt

1/2 tsp Vanilla Extract

4 Egg Whites

3/4 tsp Cream of Tartar
Directions (cake should be stacked and refrigerated for at least 2 hours before starting the Honey-Vanilla Meringue)​​:
Combine water, sugar, honey, light corn syrup, salt, and vanilla extract in a pot. Cook over medium heat to 240ºF.

In the bowl of the stand mixer fitted with a whip attachment, combine egg whites and cream of tartar. When the syrup reached 234-235ºF, turn the mixer up to medium speed. Whip until it starts to form a meringue.

With the mixer running on medium-high, pour the syrup slowly down the side of the bowl. Once added, continue to whip until it forms very stiff peaks, but it still slightly warms. Use immediately to frost the cake. Any remaining fluff can be stored at room temperature up to 2 days, or refrigerated for up to 1 week.​
Cake Assembly​​:
If the cake layers have a dome to them, trim them flat. Plate the first layer on a cake plate or board that is 10-inches or larger.

Pipe a "well" of vanilla buttercream around the edge of the cake layer and fill with lemon curd. Stack the next layer on top and repeat. The last layer should be turned upside down and placed on top. Cover the entire cake with a thin coat of buttercream and chill at least 2 hours or up to overnight

Use the slightly warm meringue to ice the outside of the cake. Use a blow torch to torch the meringue until it is perfectly golden brown. Serve within 2 days.