You are here
2017 Holiday Gift Guide for Foodies
For the Foodie on Your List This Year, Be Sure to Take a Look at Some of These Items That Are Sure to Impress!
---
Gift Recommendation from Brent Kroll of Maxwell
"The One" Glassware by Master Sommelier Andrea Robinson
www.MaxwellDCWine.com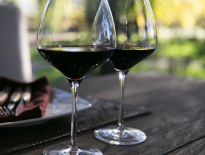 Where to Buy: Andrea Wine or Amazon
Serving Suggestion: Great for highly aromatic wines that are moderate to low in alcohol – enjoy a Pinot Noir,
Nebbiolo, Sangiovese or elegant versions of Syrah out of these glasses!
---
Gift Recommendation from Max Kuller of Estadio
"The Durand" Corkscrew for Vintage Cork Removal
www.Estadio-DC.com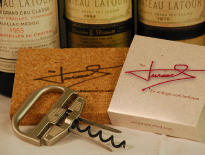 Where to Buy: Online
Recommended Use: Best used with any 30+ year old bottle of Rioja for a clean uncorking – try with
Marques de Murrieta Castillo Ygay Gran Reserva Especial Rioja*
Stop by Estadio to see "The Durand" in action for yourself before buying!
* If all this is a bit steep for your holiday budget, try a Wine-Searcher Pro Subscription for the beloved wine lover/hunter in your life!
---
Gift Recommendation from Hank's Oyster Bar
Hermes Grand Attelage Gold Plated Place Settings
​www.HanksOysterBar.com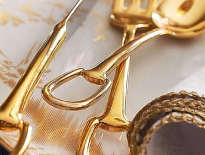 Where to Buy: Online
Paired Recipe: Braised Pork Shanks
5 ribs Celery
4 ea Carrots
3 cups Apple Cider Vinegar
2 cups Red Wine
1 Tbsp Salt
½ cup Sugar
¼ oz Rosemary
2 Tbsp beef base
1 oz Thyme
Season shanks w/ salt and pepper, sear in batches -- Sweat veggies, deglaze w/ red wine and vinegar -- Add sugar, salt, thyme and beef base, braise until fork tender -- Reduce stock to 2 ½ cups, dry hop w/ rosemary and additional thyme -- Serve with toasted caraway & lemon mashed yukon potatoes, sprinkled with rye cracker dusting
---
Gift Recommendation from Hank's Cocktail Bar
Minner's Vintage Lace Nick & Nora Glassware
www.HanksCocktailBar.com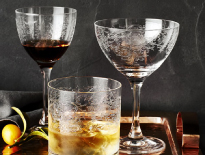 Where to Buy: Online
Paired Recipe: Secret Santa
1.5 oz Grey Goose Vodka
0.5 oz Manzanilla Sherry
0.5 oz Atsby Vermouth
Combine over ice and stir -- Pour into a Nick and Nora glass -- Top with a rosemary grape & enjoy!
---
Gift Recommendation from Momofuku CCDC
Momofuku Ssäm Sauce
www.CCDC.Momofuku.com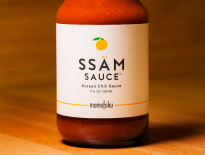 Where to Buy: Online
Serving Suggestion: Grab a slice of pizza – add ssäm sauce – eat!
---
Gift Recommendation from Chef Yo Matsuzaki of Zentan
Cooking + Cocktail Classes
www.ZentanRestaurant.com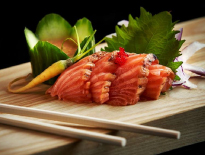 Where to Buy: Online
Paired Recipe: Gindara Saikyo Miso
Ingredients
Two pieces of black cod filet, 6-8 ounces each
Miso Base (200 grams of saikyo miso, 1 1/3 tablespoons of sake, 1 teaspoon of mirin)
Two teaspoons of salt (for the fish)
One tablespoon of canola oil (for the fish)
Put the cod on a plate and lightly sprinkle with salt;

Set aside for 20-30 minutes.

While waiting, wash the fish with water and wipe off any moisture with a towel; C

over fish with one layer of cheesecloth.
Mix ingredients together for miso base & s

pread half of the miso base into a 3-inch-deep hotel pan

Place the fish on the miso base and cover with the other half of the sauce;

Refrigerate for 24 hours

Preheat 10-inch

sautée

pan on medium high heat and sear fish until it is nicely browned on both sides.

Take the fish out from

sautée

pan and transfer to a sheet pan; Finish cooking them in a 375-degree oven for 8-12 minutes until fully cooked

Serve with teriyaki sauce.
---
Gift Recommendation from Urbana
Executive Chef Ethan McKee's Dried Pasta & Tomato Sauce
www.UrbanaDC.com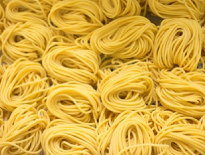 Where to Buy: Only at Urbana
Time Saver: Cook pasta until al dente – Add tomato sauce & combine to warm – Enjoy!