You are here
DC Central Kitchen holds inaugural Happy Hour Hop at Capitol Riverfront – Summer 2019
Enjoy signature cocktails and tasty bites in a round-robin style foodie event on Wednesday, July 17
Washington, DC (June 10, 2019) – DC Central Kitchen announced today that tickets for its first Summer Happy Hour Hop are now on sale. On Wednesday, July 17 from 6:00 - 9:00pm, four restaurants in the Capitol Riverfront neighborhood will participate in this round-robin style event where guests enjoy signature cocktails and small bites at some of DC's hottest Navy Yard restaurants. This year's participating restaurants include RASA (with guest Buffalo & Bergen), Rocklands Barbecue Pop-up, Dacha, Declaration and All Purpose.
Event goers select a starting location to begin the hop and spend the rest of the evening trying food and drink at each restaurant or returning to their preferred location. Each restaurant will feature a signature cocktail created by their house mixologist, plus tasty bites and hors d'oeuvres to keep you satisfied and ready to try everything the evening has to offer.
DC Central Kitchen is offering a 'Friend of the Kitchen' rate of $95 per ticket. Don't miss your chance to partake in summer's most exciting mixology event. 100% of event proceeds benefit DC Central Kitchen's efforts to provide culinary job training to unemployed adults and bring healthy local foods to underserved DC neighborhoods.

What: DC Central Kitchen's Summer Happy Hour Hop
Date: Wednesday, July 17th, 2019
Time: 6:00pm
Where: RASA (1247 First St SE), Rocklands Barbecue Pop-up (1299 1st St SE), Dacha (79 Potomac Ave SE), Declaration (1237 First Street SE) and All Purpose (79 Potomac Ave SE)
Tickets: $95 and available online at dccentralkitchen.org/happyhourhop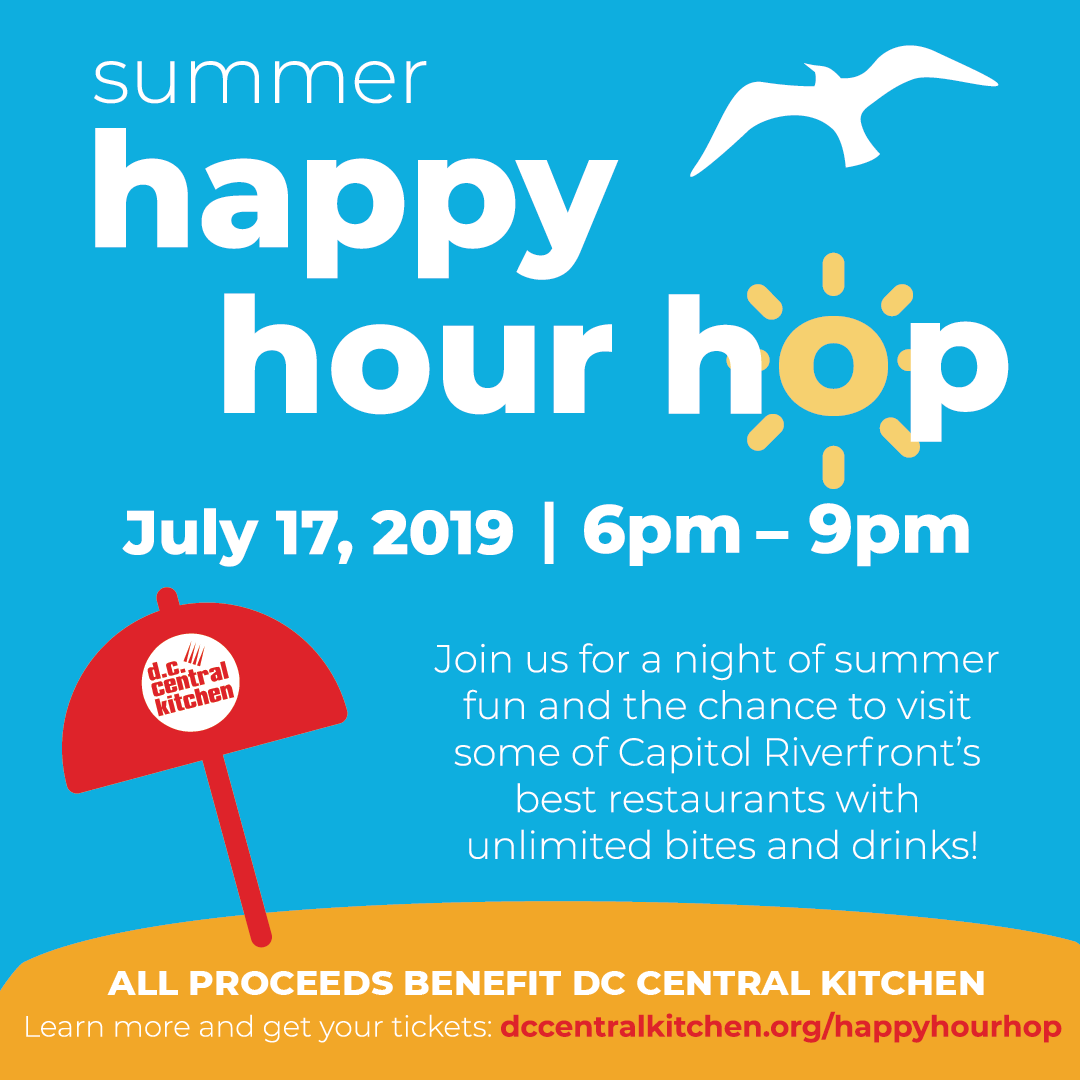 About DC Central Kitchen // As the nation's first and leading community kitchen, DC Central Kitchen develops and operates social ventures targeting the cycle of hunger and poverty. The organization's life-changing ventures provide culinary training to jobless adults, turn wasted food into balanced meals for shelters and nonprofits, expand access to healthy food, and provide healthy, scratch-cooked meals in low-income schools. These efforts have been recognized with the leading national award for healthy school food innovation, The Golden Carrot; the Washington Business Journal's Green Business Award for Innovation; and the DC Chamber of Commerce's Community Impact Award. To learn more, visit www.dccentralkitchen.org or follow @dcck on Twitter.
###