You are here
Desserts by RAMMYS 2017 Pastry Chef Finalists
Check out these easy dessert recipes from RAMMY Nominated Pastry Chef of the Year Finalists!
Kalamansi Lime Cookies
By Pastry Chef Mollie Bird from Kyirisan
Makes 3 dozen cookies
Ingredients:
COOKIE:
1/2 pound butter
1 1/2 cups sugar
1/2 tablespoon lime zest
1 teaspoon ground ginger
3 1/2 cups all purpose flour
1 teaspoon baking soda
1/2 teaspoon salt
2 eggs + 1/2 yolk
2 1/2 ounces candied ginger (quarter cup)
GLAZE:
1/2 cup Kalamansi juice ( if you can't find this lovely citrus try passion fruit/lime/lemon/grapefruit/yuzu/ect...!)
1/2 pound powdered sugar (1 box)
Zest of 1 1/2 limes (again, any citrus is great!)
Procedure:
COOKIE:
Preheat oven to 325 degrees.
In a mixer with a paddle attachment, cream the butter, sugar, zest, and ground ginger.
Add in the eggs one at a time, scraping the bowl with a spatula in between each egg.
After incorporating eggs add in remaining ingredients. Mix until just combined.
Scoop with an ice cream scoop/spoon/ finger onto a parchment lined baking sheet. Bake 10 to 15 minutes or until barely golden brown.
GLAZE:
Mix all ingredients, dip cookie tops into glaze
Let glaze set before storing or stacking...if they last long enough!
Double-Chocolate Cookies
Tiffany MacIsaac, Owner & Chef (Makes 18 to 24 cookies)
Ingredients
1 stick Unsalted butter, room temperature
1.66 cups Sugar
.5 teaspoons Instant espresso powder
3.5-ounce bar Dark chocolate [high-quality], melted and cooled 10 minutes
2 each Large eggs
1 cup + 3 tbs Flour
7 tablespoons Dark cocoa powder [Valrhona recommended]
.5 teaspoons Baking soda
.5 teaspoons Baking powder
1 pinch Salt
3.5-ounce bar Milk chocolate [high quality], chopped into medium chunks
Procedure
Combine the butter, sugar and espresso powder in the bowl of a mixer fitted with the paddle attachment. Mix on medium-low until fully combined and creamy. [Don't incorporate air or whip on high speed.] While mixing slowly, add the melted chocolate. Scrape the sides of the bowl so the mixture combines evenly. Add the eggs one at a time, mixing to combine fully, then scraping the sides of the bowl before adding the next one. Turn off the mixer.
In a separate bowl, combine the flour, cocoa powder, baking soda, baking powder, and salt. Whisk until smooth. [If the mixture is lumpy, sift it.] Add the flour mixture to the butter mixture. Stir to combine, then stir in the chocolate chunks. Divide the dough into 18 balls and chill 60 to 90 minutes, or up to three days.
When ready to bake, preheat oven to 325 degrees Fahrenheit. Line two cookie sheets with parchment paper. Place 9 to 12 chilled dough balls on each tray and bake for 12 to 16 minutes, rotating the trays 180 degrees after the first 8 minutes. Cookies will be chewy when you tap the tray and the center of the cookie starts to deflate. [Bake a few minutes longer if they don't.] If you prefer crisp cookies, bake an additional 3 to 5 minutes.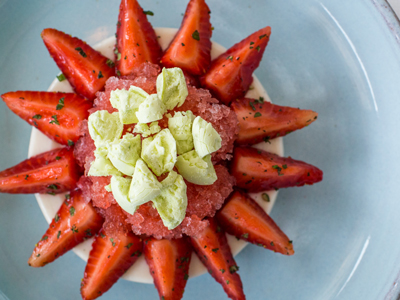 Strawberry & Lychee Panna Cotta
By Pastry Chef Brandon Malzahn of Fabio Trabocchi Restaurants
Makes 6 Portions
Lychee Panna Cotta
Cream 200g
Sugar 60g
Gelatin Sheet 3ea
Lychee Puree 300g
Vanilla Bean 1ea
Heat the cream with the sugar and vanilla bean to 90*C, add gelatin, stir.
Pour cream mixture over the lychee puree and stir well, strain mixture.
Place mixture over an ice bath and wait for the mix to suspend the vanilla.
Cast @ 90g Each into 1 cup deli soufflé cups, that have been sprayed with a light coated of pan spray to prevent sticking.
Place in the refrigerator to set overnight.
Roasted Organic Strawberries
Harry's Berries / Farm Strawberries 140g
Sugar 80g
Balsamico Massimo "Villa Manodori" Brand 6g
Lemon Zest Strip 2ea
Tahitian Vanilla Bean 1ea
Moscato d'asti Wine 50g
Water 100g
Mix all together, allow to sit in refrigerator overnight.
Bake @ 180*F for 2 hours, chill mixture, strain the juice and reserve for the granita recipe.
Strawberry & Champange Granita
Strawberry "Roasting Juice" From Above 125g
Sugar 100g
Lemon Juice 10g
Gelatin Sheet 1ea
Champagne "Sweet not dry" 150g
Water 300g
1. Make a syrup with the strawberry juice and sugar. Cook to 70*C
2. Add the gelatin and stir well till dissolved.
3. Add the lemon juice and champagne.
4. Place mixture in a metal pan and freeze.
5. Once frozen use a fork to scrape the mixture and create ice shavings.
Lime Meringue
Whites 100g
Sugar 160g
Egg White Powder 2g
Lime Zest 2g
Set the oven to 180*F
Blend all together using a hand blender and cook over a double boiler till the mixture reaches 48*C
Place in mixer and whip on high speed till the meringue has reached medium peaks.
Add Lime Zest and whip for another 2 minutes till it reached stiff peaks.
Using a piping bag with a medium sized plain tip, Pipe rounds about 1/2" in diameter and allow to dry in the oven at 180*F for 12 Hours or overnight.
Keep in a cool dry place until ready to use.
Garden Mint & Strawberries
Harry's Berries / Farm Strawberries 500g
Garden Mint Chopped Fine 10g
Select the strawberries that are equal in shape and size
Cut the strawberries into quarters
Toss the strawberries with the mint and reserve until ready to use.
To Assemble:
Invert the panna cotta from the soufflé dish and place on the plate.
Place 2 Tbsp. worth of roasted strawberries in the center of the panna cotta.
Cover the roasted strawberries with 3 spoon full of the granita mixture.
Using your hands crush the meringues into small pieces and place over the top of the granita.
Arrange the garden mint strawberries around the outside to resemble petals of a flower.
Serve immediately and enjoy.
Macedonia with Lemon Verbena Granita and Kombucha
By Jemil Gadea from Masseria
Macedonia is a classic Italian dessert that dates back to the time of Alexander the Great, to whom the dessert got it's name from being a favorite sweet treat of his.
For 2-3 People:
2C Mixed Fruit
10 Leaves each; Mint, Basil, Anise Hyssop, Lemon Verbena
1/4C Luxardo Maraschino Liqueur
2T Fresh lime juice
1/16tsp Salt
For the macedonia you will simply need to find as many different types of fruits as possible. It will certainly be great with just a few but the more, the better. Here we have strawberries, blackberries, blueberries, cape gooseberries, raspberries, peach, white nectarine, apricot, cherry, orange, fig, pineapple, kiwi, mango, rhubarb, cantaloupe, watermelon, and green grape.
Plan to have around one cup of fruit per person.
Cut each fruit into roughly equal size with some variance in shape and cut for a nicer presentation. Dress the fruit lightly with a little Luxardo Maraschino cherry liqueur, lime juice, and a very small dash of salt. Allowing time for this to all mix together will develop a better flavor (which I prefer at home), but loses the identity of the fruit as it all becomes one. Mix it up last minute for a cleaner look and a different flavor experience with each bite.
For the granita you will need:
4Cups Water
1/4C Lemon Verbena leaves, dried or fresh
Zest of 1 lemon
Juice of 4 lemons
1/2C Sugar
Bring the water to a boil, add the zest, herbs. Then cover with plastic and allow to steep for 15 minutes.
Strain, then add the sugar and lemon juice. Stir to dissolve.
Cool and pour into ice cube trays or other plastic container.
Once frozen solid, use a box grater to shave the ice.
Any herbal tea will work. Don't throw away your basil or mint stems either, they are great for this!
Place your serving dish in the freezer for an hour before scooping in the granita. Fruit and additional herbs on top to garnish. Now finishing with some kombucha, either with or without chia seeds. Here I have guava kombucha but I also like it with coconut water, or even a little more liqueur.
This is my spring and summer time favorite since it's both light and refreshing on hot and humid days. Plus all of the farmers markets around DC really make it something special.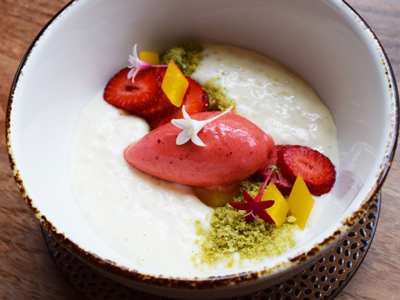 Rice Pudding
By Pastry Chef Erin Reed from Blue Duck Tavern
Pudding
2c Water
1c Rice
1c Sugar
1t Salt
½ gal Milk
1ea Van Bean
1can Evap. Milk
3eggs
Directions:
Combine rice and water in a large pot, bring to a simmer, reduce heat and cover. Cook until water is evaporated and rick is cooked. Add milk, sugar and vanilla bean to cooked rice. Bring to a simmer. Combine the evap milk and eggs, stream into the rice mixture. Cook until thickened. Cool completely before refrigerating. Serve with matcha streusel and fresh strawberries for a more elevated dessert or eat plain with a sprinkle of cinnamon!
Matcha Streusel
2oz Butter
1 ¼ c Flour
½ t Salt
1 ¼ c Sugar
2T Matcha
Directions:
With paddle combine flour, sugar and matcha, add melted butter and mix to combine. Bake @325 until just starts to brown on the edge.