You are here
Even After the RAMMYs, Silver Rock Funding Continues to Grow
Since opening its doors in Alexandria, Virginia, Silver Rock Funding has funded nearly $10 million in capital for businesses and entrepreneurs. From beer gardens to barber shops, Silver Rock Funding has made getting cash for worthy businesses easy.
With simple pre-requisites like being in business over six months and making at least $10,000 a month in revenue, Silver Rock Funding can match merchants up with the funding they need.
The various products available allow merchants to pay back the funding on a daily basis using a percentage of the daily take. This allows businesses the flexibility to continue to be profitable and not have to payback a large lump sum. Silver Rock Funding recently created an ebook that addresses many of the questions restauranteurs may have about the product.
Key Data on Restaurant Business Loans: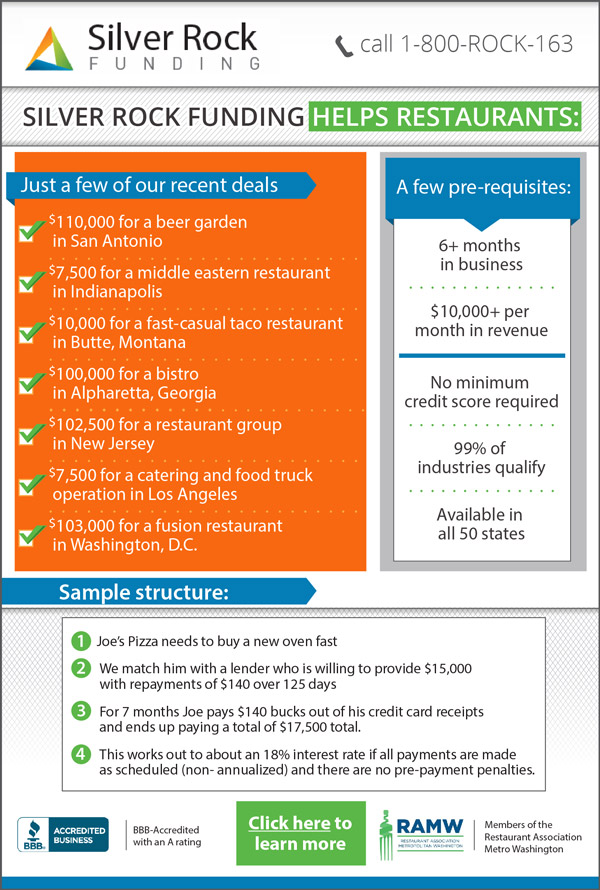 Silver Rock Funding has matched restaurants up with over $1M in funding since inception.
The funding can be paid back in as little as four months or stretched out over time, depending on the situation.
Interest rates are generally constructed monthly, with rates as low as 1-2% per month.
For more information on Silver Rock Funding visit the website or give us a call at 1-800-ROCK-163.