You are here
Labor Day Weekend Recipes
Summer Corn Salad
By: Rocklands Barbeque & Grilling Company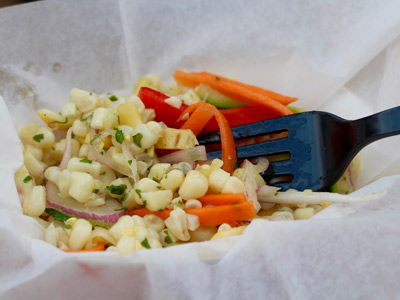 Cold water - 3 Gallon
Kosher salt - 3 Tbsp.
Shucked fresh white corn - 1 Case
Red wine vinegar - 1 Cup
Olive oil - 1 tsp
Vegetable oil - 3/4 Cup
Kosher salt - 2 Tbsp.
Coarse grind black pepper - 2 Tbsp.
Red onions small dice - 2 1/2 Cup
Zucchini julienned - 4 Cups
Yellow squash julienned - 4 Cups
Carrots small dice - 3 Cups
Red peppers small dice - 2 Cup
Cilantro fresh chopped - 1 Cup
Have all ingredients measured before beginning
Place a 5 gallon pot with 3 gallons of water on the stove with 1 1/4 cup of kosher salt and boil.
Cook the corn for 10 minutes then cool in cold water. When cool, remove kernels from cob and reserve.
In a mixing bowl whisk vinegar, olive oil, vegetable oil, 2 Tbsp. kosher salt and black pepper.
Add the red onions, zucchini, squash, carrots, red peppers, cilantro, and corn kernels
---
Roasted Cauliflower
By: Tico DC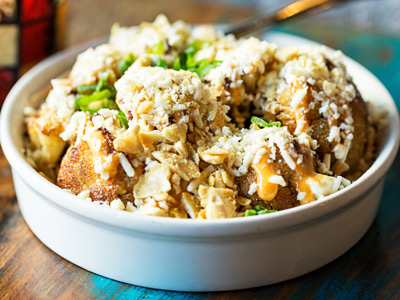 Cauliflower - 1 head (cut into medium sized florets)
EVOO - 3 ounces
Fresh Thyme - 1 ounce chopped
Chipotle Mayo - 1 ounces
Cotija Cheese - grated- 2 ounces
Scallions - 1 oz
Fried Fava Beans (can be bought in Latin market)- one bag, crush 3 ounces
Roast the Cauliflower in 400' oven for 15 minutes until golden brown, cool and store (toss with salt, pepper and thyme and 2 ounces of olive oil). Heat a pan with butter and remaining olive oil and saute cauliflower. When hot and golden brown place in a small earthenware crock and garnish with crushed fava's, 1 oz chipotle mayo, shredded cojita cheese and sliced green onions.