You are here
NBC4 Health Expo Healthy Cooking Stage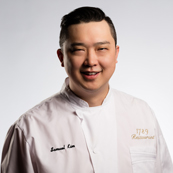 Executive Chef Samuel Kim
1789 Restaurant
Confit Duck Legs
15#duck legs
1 pint salt
1 cup sugar
½ cup pink salt
5 Cinnamon Sticks
5 Cloves
3 Star Anise
¼ C Pink Peppercorns
¼ C Fennel Seed
10 Black Peppercorns
1 gallon duck fat
Wash duck legs in cold water. Then season liberally with spice mix made from ingredients listed above. Stack seasoned duck legs into a container and then cover and store for 24 hours. After curing, wash off excess cure mixture from duck legs.
Place duck legs in a single layer in a baking dish. Just barely cover with heated duck fat. Cover dish with aluminum foil and set in an oven at 275 degrees.
Cook for 3 hours or until the bone slides right out of the leg. Cool duck legs in fat until room temperature. Once cooled, pick all meat from the bones.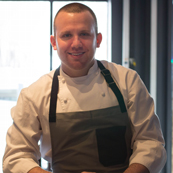 Chef Ryan Ratino
Masa 14
Sustainable Sea Trout — Lowering Blood Pressure Without Lowering the Meat Lover's Expectations
Poached Kombu
Soy-2 cups
Mirin-1 cup
yuzu juice-1 cup
water-1 cup
Kombu- 8 each 4 inch pieces
Place all ingredients into a pot and cook over a simmer until the kombu is tender but not mushy roughly 45 minutes without boiling.
Dashi
900 grams water
100 grams soy
75 grams mirin
50 grams bonito flake
8 grams kombu
Place all ingredients beside bonito flake into large pot and bring to a simmer for 5 minutes. Turn off the heat and add the bonito flake, then let steep for 10 minutes. Strain.
Salmon Cure
3 cups salt
½ cup sugar
1 cup bonita flake
20 g kombu
2 tablespoons paprika
8 orange zested
6 lemon zested
2 tablespoons coriander
1 tablespoon fennel seed
2 each bay leaf
4 each kaffir lime
Combine all ingredients in a food processor and blend until seeds are broken down completely.
Place cheese cloth on a sheet pan and lay down half of your cure then lay the salmon filets down on the cure. Place the other half of the cure on top of the salmon and let sit in the fridge for 2.5 hours. After 2.5 hours rinse the salmon and dry in the fridge over night to form a pellicle before smoking.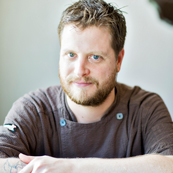 Chef Miles Vaden
Passion Food Group
Sustainable Salmon with Asian Flair - Make Healthy Eating Tasteful
Okonomiyaki-Smoked Salmon Sriracha "Lite Mayo", Tonkatsu Sauce, and Roasted Seaweed Furikake
Chef de Cuisine Ryan Moore
RIS
Crown of Cauliflower: A Healthy & Delicious Vegetarian Dish Fit for Meat Lovers!
1 spaghetti squash, cut in half lengthwise and seeded
¼ cup pine nuts
¼ raisins
2 Tbs mint, chiffonade
1 carrot, small diced
1 onion, small diced
2 stalks of celery, small diced
1 cup French green lentils
2 cups water
1 head cauliflower, sliced vertically into three 1"steaks
Extra virgin olive oil
1 Tbs yellow curry powder
½ cup pomegranate seeds
1 cup Greek yogurt
3 sprigs fresh mint
Lemon-honey and sumac vinaigrettes to finish (see recipe below)
Sumac vinaigrette to finish (see recipe below)
1. Preheat oven to 375˚F.
2. Brush the spaghetti squash halves with olive oil and season with salt and pepper.
3. Roast squash flesh side down for 30 minutes.
4. Sauté diced onion, celery, and carrot until the onions are translucent in a 2 quart saucepan.
5. Stir in lentils and add water to the vegetable mix. Bring to a simmer and cook for 10 minutes until lentils are tender. Strain excess liquid. Season with salt and pepper to taste and keep warm.
6. Combine yellow curry powder and olive oil in large bowl. Toss each cauliflower steak in curry oil mixture. Season with salt and pepper.
7. After the spaghetti squash is out of the oven, scoop out flesh with fork. Sauté squash with pine nuts, raisins, and mint chiffonade. Season to taste.
8. Pan sear cauliflower steaks over medium-high heat until golden brown and tender.
9. In a shallow bowl or plate; make a nest of spaghetti squash with leaving a space in the center for lentils.
10. Spoon lentils in the center of the spaghetti squash nest. Dollop Greek yogurt on top of lentils.
11. Place cauliflower steak atop the squash and lentils.
12. Garnish with pomegranate seeds and mint sprig.
13. Finish with lemon-honey vinaigrette and sumac vinaigrette (recipes follows)
Lemon-Honey Vinaigrette: makes 1 cup
¼ cup honey
¼ cup lemon juice
½ cup extra virgin olive oil
Salt and freshly ground pepper to taste
Whisk together honey, lemon, juice, and olive oil until emulsified.
Sumac Vinaigrette:
2 Tbs orange juice
¼ cup pomegranate molasses
2 Tbs red wine vinegar
¼ Tbs sumac
¼ Tbs sugar
½ cup extra virgin olive oil
Salt and freshly ground pepper to taste
Whisk together all ingredients until emulsified.