You are here
RAMMYS New Restaurant of the Year Finalists Recipes
Summertime recipes from 2017 RAMMYS New Restaurant of the Year Finalists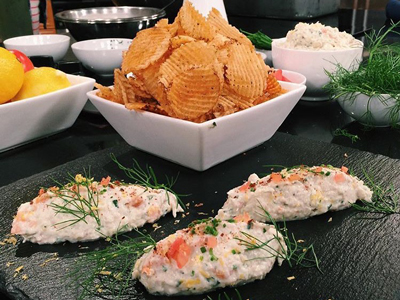 Smoked Blue Catfish Schmear Recipe
By Chef Jennifer Carroll, Requin

Serves 4-6
Active Time = 30-50 minutes
Ingredients:

¼ log Japanese smoke apple wood (or ¼ cup of apple wood chips)
1# skinless blue catfish fillet, cut into 1-inch pieces
2 cups dry white wine
2 cups water
1 tablespoon minced shallot
1 tablespoon minced garlic
3 ounces smoked salmon, cut into ¼ inch pieces
¼ cup sour cream
¼ cup mayonnaise
¼ cup fresh squeezed lemon juice
1 tablespoon thinly sliced fresh chive
1 tablespoon thinly sliced fresh parsley
½ tablespoon thinly sliced fresh tarragon
1 teaspoon fine sea salt
½ teaspoon freshly ground white pepper
Directions:
Set smoke log on fire, blow out flames to just have smoldering embers, place into smoker.

Season the catfish

fillets

with salt and white pepper, smoke for 20 minutes.

While fish is smoking bring the wine, water, shallot and garlic to a boil in a saucepan over high heat. Reduce to a simmer; add catfish immediately from the smoker. Gently poach until catfish is opaque in the center about 5-7 minutes.

Remove catfish from poaching liquid and transfer to a paper towel lined plate to drain.

Strain poaching liquid through a fine mesh sieve; discard liquid and set aside garlic and shallot.

Chill the catfish, garlic and shallot completely.

Once chilled, place catfish, garlic, shallot, smoked salmon, sour cream, mayonnaise, chive, parsley and lemon juice in a big bowl and mix gently to break up the catfish.

Season with salt and white pepper.​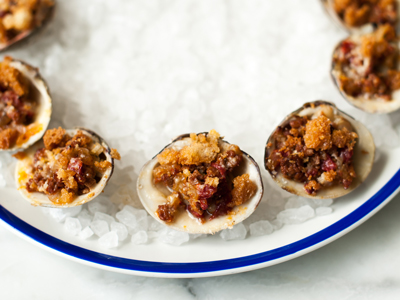 Clams Casino Recipe
By Chef Nick Wiseman, Whaley's

Ingredients:
1 bag preferably middle neck clams (if not available, little necks are fine)
1 onion (diced small)
2 Tablespoons canola oil
The peel of 1 lemon
1 sprig each rosemary, thyme, and bay leaf
1 pint clam juice
5 cloves garlic (minced)
1 red pepper (diced small)
Fresh parmesan cheese
Crushed croutons
1 lb. ground chorizo
Directions:
Thoroughly rinse clams of all dirt and grit. Put a large, wide pot on high heat. Add canola oil and then 1/2 of the diced onion. Vigorously stir for 30 seconds to not let the onion burn. Deglaze with white wine and add herbs. Reduce wine by half and add clams. Add clam juice and cover pot with a lid. Cook clams until they have just barely opened. Lay out in a deep pan to cool. Reserve clam liquid.
While clams are cooking, heat a separate pot on medium heat. Lightly brown chorizo for about 2-3 minutes. Add rest of onion, garlic, and red peppers and cook for another 4-5 minutes while constantly stirring. After vegetables are soft, lay out on a pan to cool.
To assemble, pick clam meat off and put back on the half shell and rest shell on rock salt. Spoon chorizo vegetable mixture generously on each clam. Strain reserved clam liquid through a fine sieve to ensure there is no grit. Put a few drops of clam liquid on each clam. Freshly grate parmesan on clams. Put clams into 450F oven for about 3-5 minutes or just until cheese gets bubbly. Top with crushed croutons and enjoy!


Chicken Liver Mousse
By Chef Mike Friedman, All Purpose
This recipe is a loose adaptation of what my grandmother would make for family gatherings. Her traditional chopped liver is still one my favorite food memories. My entire family loved it, even Tuffy, our terrier. We once found her on top of the kitchen table with her snout fully enveloped in the bowl of chopped liver! However you make it, I always think of my family, and how amazing it is that food plays such a memorable role in all our lives.

Ingredients:

4 Tbsp EVOO
1lbs. chicken livers, cleaned
Salt and black pepper, ground
3 ea shallots, chopped
4 ea garlic cloves, minced
3 sprigs thyme
2 cups white wine
8 oz butter, unsalted and cubed

Directions:
Heat a large

sauté

pan over medium heat.

Season the chicken livers with salt and pepper.

Add the

EVOO

to the hot

sauté

pan. When the oil starts to shimmer, add the chicken livers CAREFULLY. Cook the livers for 2 minutes, and then flip them with tongs.

Add the shallots, garlic, thyme and white wine. Cook until the wine has reduced by half.

Remove the thyme from the pan. Add all the ingredients of the pan into a blender. Carefully turn the blender on and blend until the liver mixture is smooth.

While the blender is on, carefully add the cubes of butter, one at time until they are completely incorporated into the liver.

Empty the contents of the blender into a bowl. Adjust seasonings if necessary. Chill immediately.
GARNISH NOTES:
Place in a ramekin, and top with fig jam and fresh thyme and serve with grilled toast points.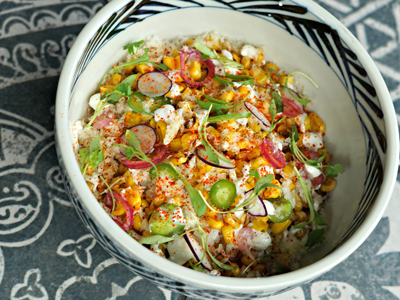 Corn Donburi Recipe
By Chef Rob Rubba, Hazel

Ingredients:

3 ears of corn roasted and cut off the cob
¼ cup mayonnaise
1 lime, zest and juiced
½ red onion, diced
1 teaspoon white miso
2 cups cooked short grain rice (we like Tamaki Gold)
¼ cup chopped cilantro leaf and stems
2-3 tablespoons Togarashi Shichimi spice
½ cup Cotija cheese, grated
Salt to taste

Directions:
In a mixing bowl combine

miso

, mayonnaise, red onion,

togarashi

spice, lime juice and zest

Whisk all together and add corn

Fold together with cilantro

Check seasoning

Spoon corn salad over warm rice (use a bowl)

Sprinkle with cheese

Garnish with shaved radishes,

jalapeño

and a few cilantro leaves