You are here
RAMMYS New Restaurant of the Year Finalists
Convivial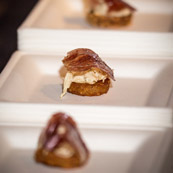 Latke, Celery root, Dry cured lamb
Latke:
4 large Russet Potatoes
1 onion
2 eggs beaten
1/4 cup corn starch
Salt and pepper to taste
Grate potatoes and combine other ingredients. Cook right away in a dying pan on both side. Once cook add celery root remoulade and finish with a slice of dry cured lambs.
Celery root remoulade:
1 cup mayonnaise
2 1/2 tablespoons Dijon mustard
1 teaspoon salt
2 tablespoon lemon juice
2 lb celery root grated
Black pepper
Clarity
Tsume Charred Rare Yellow Fin Tuna / Ginger Aioli and Fresno Chili
serves 6
6 portions of Yellowfin Tuna, 5 ounces each and rolled in tsume
Tsume
2 pint Chicken Stock
1 cup Soy Sauce
1/2 cup Granulated Sugar
1/2 cup Mirin
juice of 2 limes
2 tablespoons Fish Sauce
Reduce all the ingredients in a sauce pot on medium heat on the stove to half its quantity
Pull from the heat and let cool
Add the lime juice and fish sauce
Spoon 4 tablespoons of cooled tsume on a plate. Roll the tuna portions in the tsume
Fresno Sweet Chili Glaze
10 Fresno Chilis
10 Garlic Cloves, peeled
2 ounces Peeled Ginger
2 cups sugar
1/2 cup water
Juice of 2 Limes
2 tablespoons fish sauce
2 teaspoon salt
8 turns of fresh white pepper
Pulse the chilis, garlic, and ginger in a food processor until very finely chopped
Add the chopped mix to a sauce pot and add the sugar and water
Reduce the mixture by half
Ginger Aioli
1 Cup prepared mayonnaise
2 tablespoons of pickled ginger, chopped finely
1 tablespoon rice wine vinegar
1 tablespoon ginger beer
1 tablespoon ginger, chopped
2 teaspoons garlic, chopped
1 teaspoon salt
4 turns of fresh white pepper
Juice of 1 lime
Whisk all ingredients together in a mixing bowl
Finishing and Plating the Dish
Heat a medium sized cast iron pan on high heat
Add 2 tablespoons of canola oil and heat until the oil smokes
Place the tuna portions in the pan and sear on one side only for 45 seconds
Remove the tuna from the pan and place each portion on a medium sized dinner plate
Spoon Tsume, Chili Glaze, and Ginger Aioli over the tuna.
Tagliolini
SERVES 12
Ingredients
4 tbsp. extra virgin olive oil
2 tbsp. butter
2 cloves garlic, thinly sliced
2 anchovy, peeled & cleaned
1 t. italian parsley, chopped
1 T nduja salami
1/4 c. fresh grated parmigiano reggiano
1⁄4 lb. fresh egg tagliolini (1 lump)
Instructions
Bring a large pot of water to a boil over high heat. Meanwhile, make nduja sauce by adding 4 T. extra virgin olive oil in a medium, heavy saucepan over low heat. Add garlic, anchovies and season with salt and peppper and cook gently until garlic is light in color and anchovies are fully dissolved. Add 2 T. butter and set aside.
Season boiling water generously with salt, add pasta, and cook, stirring, until just tender, 1½-2 minutes. Drain pasta, then add to skillet. Add two large spoons of pasta cooking water, 1 tbsp. of the butter and half of the parmigiano reggiano. Toss to mix well. Adjust seasoning as necessary.
Take a fork and twirl the pasta onto it. Finish with a grating of parmigiano.