You are here
RAMMYS Pastry Chef of the Year Recipes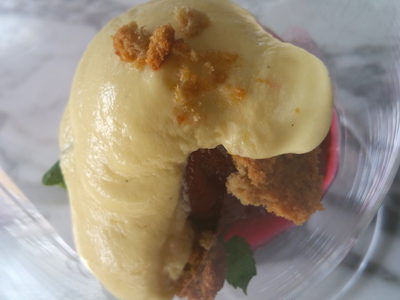 Prosecco Zabaglione with Strawberries and Rhubarb
Pastry Chef Jemil Gadea, Masseria
Prosecco Zabaglione
Ingredients
4 each Egg yolks
4 tablespoons Sugar
.5 cups Prosecco
To fill pot Water
Procedure
In a bowl, whisk together the egg yolks and sugar until the mixture is light yellow. Add the Prosecco, whisk slowly to combine, reserve on the side. Set up a double boiler by selecting a pot that fits within your bowl but still remain suspended above the bottom of the pot. Fill the pot with 2 inches of water and heat to just below a simmer. Lower the heat, place the bowl on top of the pot and begin whipping the mixture. Whip vigorously for 20 minutes, ensuring sure the water never boils. During this time, the mixture will lighten and thicken into a stable foam. The zabaglione will be ready to use when hot.
Strawberries
Ingredients
1 pint Strawberries
1 tablespoon Sugar
1 each Szechuan pepper, ground
.5 each Lemon, juice of
.5 each Orange, juice of
Procedure
Wash and stem the berries. Leave whole, or cut as desired—halved, sliced, quartered, or diced. Place the berries in a bowl, sprinkle with sugar and grind Szechuan Pepper as desired. Squeeze the juice from half of the lemon and orange. Taste, and adjust the sugar, pepper, lemon and orange to your preference. Allow ingredients to macerate in the refrigerator until needed.
Rhubarb
Ingredients
1 stem Rhubarb, medium-sized
1 cup Elderflower Soda
.25 cup Lychee puree [or the syrup from canned lychee fruit]
1 each Lime
Procedure
Clean and trim one medium sized stalk of rhubarb. Cut against the grain to shave the rhubarb into very thin slices. Be sure to use a sharp mandolin or a very sharp chef's knife. Place the prepared rhubarb into a small container and cover with the elderflower soda, lychee purée and lime juice. Taste and adjust to your preference. Cover and place in the cooler overnight to soften the rhubarb fibers.
Ricotta Pound Cake
Yield: .5 Sheet-pan
Ingredients
2 cups All purpose flour
1.5 cups Sugar
1.5 teaspoons Salt
1 tablespoon Baking powder
.5 cup, 1 tablespoon Butter, softened
4 each Eggs, large
1 cup, 2 tablespoons Sheep's milk ricotta
1 cup Milk
Procedure
Preheat the oven to 350 degrees Fahrenheit. Prepare a baking pan with spray and parchment paper. Combine the flour, sugar, salt, and baking powder. Mix these ingredients then sift them into a mixing bowl. Add the softened butter to the bowl and fit onto the mixer with the whip attachment. Next, combine the eggs, ricotta, and milk in a separate bowl and stir to combine. Add half of the liquid ingredients [eggs, ricotta, and milk] to the dry ingredients [flour, sugar, salt, baking powder and butter]. Mix together for 1 minute on low speed then 4 minutes on medium speed. Then, stop the machine, add the remaining liquid ingredients. Scrape the sides and bottom of the mixer with a rubber spatula. Mix 1 minute on low speed then 5 minutes on medium high to high speed. Fill the prepared pan so that it is at a maximum of 2/3 full, then bake for about 15-20 minutes. To note: this time and temperature is recommended for a sheet-type cake; anything thicker will bake longer. Allow to cool and cut into bite-sized pieces. Toasting theses pieces adds a nice texture.
Rhubarb Sorbet
Ingredients
.75 Cups Sugar
3 Tablespoons Glucose powder
2 Cups Water or hibiscus tea
.5 Ounces Rhubarb, cleaned, cut small
Procedure
Combine the sugar and glucose powder. Stir together to disperse the glucose powder in the sugar. Add this mixture to a pot large enough to fit all of the remaining ingredients. Then add the water [or Hibiscus Tea], dissolve the sugar mixture, and add the rhubarb. Place a top on the pot and bring the mixture to a simmer. Allow to simmer for 5 minutes, removing from the heat. Bring to a cool until the mixture reaches room temperature. Then purée in a blender and pass through a strainer. Chill and allow to rest overnight if possible. Then, freeze in an ice cream or sorbet machine following the manufacture's instructions. Alternatively, you may purchase your favorite sorbet or gelato as a substitute.
Assembly
Add strawberries and rhubarb to a bowl or glass/snifter. Make the zabaglione, then cover the berries with a generous spoonful of zabaglione. Finally, place the pound-cake on top and then scoop the sorbet.
---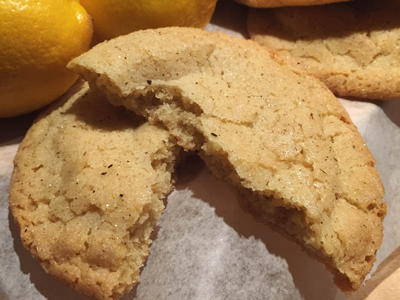 Lemon Lavender Sugar Cookies
Pastry Chef Bridie McCulla, Northside Social
3 cups all purpose flour
2 teaspoons baking powder
1 teaspoon kosher salt
2 teaspoons dried lavender buds, finely ground in a spice grinder
2 sticks unsalted butter, room temperature
2 cups granulated sugar
2 large eggs
1.5 teaspoons vanilla extract
1.5 teaspoons lemon extract
Line a baking sheet with parchment paper, and preheat oven to 350. Whisk flour, baking powder, salt, and ground lavender together in medium bowl. Using electric mixer, beat butter in large bowl until smooth. Add sugar and beat to blend. Add eggs and vanilla and lemon extracts, and beat to blend. Add flour mixture and beat at low speed just to blend. Cover and chill dough at least half an hour. Once dough is slightly chilled and has started to firm up, scoop into rounded tablespoons, using an ice cream scoop if possible for consistency. Roll cookies in additional granulated sugar and place 2 inches apart on baking sheet, flattening slightly. If desired, add a bit more ground lavender buds to your rolling sugar. Bake until edges are golden brown and puffed, but centers are still pale and soft, 12 to 15 minutes. Repeat with remaining dough. Makes about 45 cookies.
---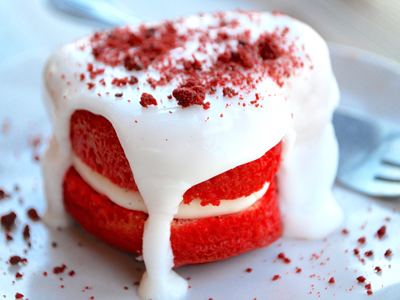 Very Red Velvet Hearts
Pastry Chef Tressa Wiles, Bayou Bakery, Coffee Bar & Eatery
-For the cake
Ingredients
20 ounces White lily flour
1 tablespoon Baking soda
1 tablespoon Cocoa powder
12 ounces Sugar
2 each Eggs
1 tablespoon Vanilla
1 ounce Red food coloring
1 teaspoon White vinegar
12 ounces Vegetable oil
8 ounces Buttermilk
Procedure
Sift flour, baking soda, and cocoa powder together into a bowl and set aside. In a mixing bowl, start to paddle sugar and eggs together until frothy. Once frothy - add vanilla, red food coloring, white vinegar, and vegetable oil then mix for 1 minute. Add flour mixture and buttermilk alternately, finishing with the flour mixture. Be sure to scrape down the sides of the bowl in between each addition.
Butter heart shaped molds. Bake at 325F degrees for 12-15 minutes or until center is set and a knife inserted comes out clean.
-For the frosting
Ingredients
4 ounces Butter, unsalted
8 ounces Cream Cheese
1 box Confectioners Sugar
.5 teaspoon Vanilla
.5 teaspoon Salt
Procedure
Make sure your butter and cream cheese are room temperature. In a bowl, mix butter and cream cheese until fluffy. Slowly add confectioners sugar, vanilla and salt until thoroughly mixed.
Cake Assembly (part 1)
Heart shaped cakes: Cut each heart cake in half-length wise. Place your cream cheese frosting into a piping bag and even disperse the frosting onto the first layer. Sandwich the top layer onto the cake. Place in the refrigerator until set.
-For the white chocolate glaze
Ingredients
1 cup White chocolate chips
1 cup Heavy cream
1 tablespoon Butter, unsalted
Procedure
In a small saucepot, heat heavy cream to just before a boil. In a bowl, pour heated cream over white chocolate. Let sit for 4 minutes and gently stir to combine, making sure not to incorporate any air. Once smooth, add your soft butter and gently mix until combined.
Cake Assembly (part 2)
Pour the warm glaze over your cooled heart shaped red velvet cake until the glaze drips down all sides and then smooth the top with your off set spatula. Top with red velvet crumbles or any topping you choose such as toasted Coconut and Pecans.
---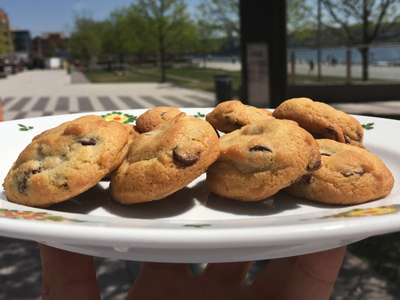 Chocolate Chip Cookies
Executive Pastry Chef Alex Levin, Osteria Morini DC

This recipe is one of my all-time favorites! Chocolate chip cookies accompany all of the gelati and sorbetti at Osteria Morini. Most recently, I had the honor of cooking lunch for the third time at the West Wing of the White House, where these cookies were one of the featured desserts – served warm accompanied with Tahitian Vanilla Bean Milk.
A few quick notes to the chef – for medium and larger cookies, you must press the cookies down slightly before baking. Also, rather than bake all of the cookies scooped, I suggest baking just what you need, and then scooping and freezing the rest of the cookie dough. Once frozen, the cookie dough balls will hold frozen in a sealed ziplock bag for 4 weeks. Then, you can just pull out the frozen cookie dough, let thaw on a cookie tray and bake fresh for a full month after you mix the ingredients together!
Ingredients:
Unsalted Butter, soft 1 1/2 cups
Granulated Sugar 1 cup
Light Brown Sugar 3/4 cups
Salt 1 1/2 tsp.
Vanilla Bean, scraped 1 ea
Large Eggs 3 ea
Baking Soda 2 tsp.
All Purpose Flour 5 cups
Dark Chocolate chips 18 oz.
Directions:
Preheat the oven to 350⁰F.
Sift the dry ingredients - baking soda and flour together, and reserve on the side.
In a kitchen aid bowl, place your soft butter, granulated sugar, light brown sugar, salt and scraped vanilla bean. Using the paddle attachment, cream on low speed to mix, and then raise to medium speed until light and fluffy.
Add the eggs in two parts – each time stopping the mixer, lowering the bowl and scraping the sides. Mix until homogenous.
Drop the bowl, add the sifted dry ingredients all at once. Mix on low speed until homogenous.
Add the chocolate chips, and mix until homogenous.
Using a cookie scoop, scoop the cookies directly onto a parchment-lined cookie tray. Leaving space for the cookies to spread. If the cookie scoop sticks, rinse the scoop in hot water.
Bake for 8-12 minutes, or until golden brown – rotating halfway through.
Cool the cookies, and enjoy!