You are here
RAMW 2016 Annual Meeting Recap
Dear RAMW Members,


This morning we held RAMW's Annual Meeting at FIG & OLIVE at City Center, where we recapped highlights and major projects from this past year. We heard from our keynote speaker The Honorable Mayor Bowser, Executive Director of the DC Health Benefit Exchange Authority, Mila Kofman, welcomed new members to the Board of Directors, and took a glimpse at our five-year plan for the association.

This has been a great year for RAMW and the industry overall, as well as a challenging year. The association and board spent much of the past few years securing our place as a true advocate for our members.

Telling Your Story
It was critical, this year, to tell the story of our industry. We impressed upon elected officials and lawmakers that the restaurants and small businesses in the Washington, DC Metropolitan region are not just businesses; they are organizations led by local entrepreneurs who live and work in the neighborhoods and they create businesses that are true community gathering places. To view the DC Works Here campaign video, please click below.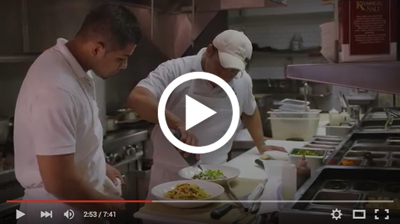 As you can see, the stories are dynamic and the industry is incredible. All of these touch points served to educate government leaders and the public about this industry of opportunity. But they are also meant to be a reminder for these audiences of what is at risk.


Political Action
As lawmakers consider more and more legislation, which challenges an operator's ability to run their business as costs go up, the cumulative effect of the legislation is reason for concern.

The shift in legislative focus is bigger than the restaurant industry, however. This year, RAMW worked in close partnership with the entire business community including the DC Chamber of Commerce, and other major business leaders in challenging the minimum wage ballot initiative in DC Superior Court.

We also worked in tandem with the Board of Trade and leaders from across the business community to provide data and critical input to the Council on potential impact of the Universal Paid Leave Act. We offered insight on noise legislation in DC and educated the Council on how the predictive scheduling bill would be a difficult burden for restaurants and retail to bear. In Northern Virginia, RAMW is part of a business coalition with industry leaders working to prevent a meals tax in Fairfax County. We continue to engage with our partners in Maryland as we navigate legislative and regulatory issues affecting the industry.

Across the region, the pace at which legislation is introduced is worrisome. It is often hasty and lacking in significant research and data for industries and government to fully understand impact and cost. I say all of this, not to be alarmist, but to give you an overview of what the restaurant community – which is growing so fast and realizing so much success in recent years – is facing as a collective. These are just a few of the reasons that you have an association to call your own.


RAMW Programming
The association met or exceeded its financial goals across all lines of programming, which is driven by Restaurant Week, the RAMMY Awards and ServSafe Training, as well as by membership dues, and affinity partnerships that benefit our members. In training and workforce development, we expanded the reach of Educated Eats scholarships and programming. We also partnered with Culinary Agents on a new job board for RAMW.org and are working with DC Central Kitchen to begin collecting data about hiring and workforce development.


5 Year Plan
Over the last 6 months, our team worked hard to create a 5 Year Plan that provides an overview of our strategic direction as we look toward RAMW's 100th year. The content of this 5 Year Plan is fueled by the leadership of the organization and our members. We took the insights, information and feedback we received from you in surveys and in one-on-one meetings to populate our plan. The goal of this plan was to provide a framework of how we'll work to serve our members and represent our community in the coming years, as well as how we'll strengthen our organization as our industry continues to grow and evolve. To view the 5 Year Plan presentation, please click below.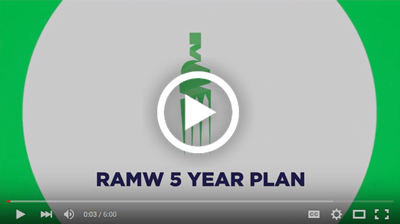 Board Business
Moving into the 2016-2017 year, we would like to thank our esteemed Chairman of the RAMW Board, Gus DiMillo, for his many years of dedicated service and leadership on the RAMW Board of Directors. On April 1st we will welcome John Snedden, owner of Rocklands Barbeque & Grilling Co. and co-owner of Right Proper Brewing, as our new Chairman of the Board.

We would also like to welcome the newest members of the RAMW Board of Directors voted in today: Peter D'Amelio, Matchbox Food Group; Jeffrey Bank, Alicart Restaurant Group; Scott Drewno, The Source by Wolfgang Puck; Hollis Silverman, Great American Restaurants; Scott Kinlaw, EagleBank; and Kelly McMillan, American Express Company/Global Merchant Services Co.

The incoming chairman will appoint the next executive committee after April 1st. The proposed executive committee slate is: Stephen Fedorchak, Liberty Tavern, Lyon Hall, Northside Social; David Moran, Clyde's Restaurant Group; Greg Casten, Tony and Joe's Seafood; Gus DiMillo, Passion Food Hospitality; and Ris Lacoste, Ris.


Working for You
We are ending this fiscal year stronger than ever before. Over the past 96 years, RAMW has upheld our commitment to provide Advocacy, Resources and Community to our Industry. Over the next 5 years –and then into the following 100 – we look forward to representing you.


Sincerely,



Kathy E. Hollinger
President and CEO, RAMW