You are here
Valuing Transgender Applicants & Employees: A Best Practice Guide for Employers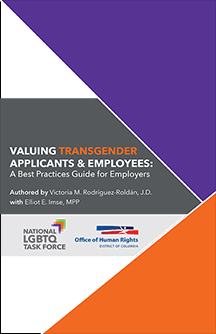 Access to stable employment is integral to human dignity and self-worth. Unfortunately for many transgender people, employment is often inaccessible due to discrimination. According to the National Transgender Discrimination Survey, more than 90 percent of transgender people have experienced harassment in the workplace due to their gender identity, and at least 47 percent said they experienced an adverse job outcome (such as being fired, not hired, or denied a promotion) due to their gender identity. In the District of Columbia, the Qualified and Transgender resume testing study conducted by the DC Office of Human Rights found 48 percent of employers who responded to testing appeared to prefer at least one less-qualified cisgender applicant over a better- qualified transgender applicant. Clearly, employers and their employees are struggling to ensure transgender people are treated with respect and fairness in the workplace.
The purpose of Valuing Transgender Applicants & Employees: A Best Practice Guide for Employers is to provide employers with guidance and "best practices" for transgender applicants and employees that go beyond legal obligations. These best practices can help create a workplace environment that is genuinely inclusive of the transgender community, to the benefit of all employees and the employer itself.
Download Valuing Transgender Applicants & Employees.