You are here
Within 3 years, 50% of restaurants fail. BlueCart is starting to reverse that trend. Read more!
As a data-driven startup, we are constantly evaluating our performance against internal benchmarks and industry standards, but tend to stay away from overanalyzing outside our specific areas of influence. This month though, a series of discussions with top VCs near our Silicon Valley office prompted us to start asking questions beyond the usual metrics. In meetings with firms like Accel Ventures, Kleiner, and a handful of others outside the valley proper, our rapid growth and increasing user engagement numbers led us to question the ways in which BlueCart is fundamentally changing the hospitality industry. When an app is a first-mover in a new market, changes the way people do business at very basic levels, and grows exponentially within it's target industry, what can that app's adoption rates say about the industry itself?
Here's one surprise: Adoption of BlueCart is strongly correlated to lower failure rates in restaurants.
Now, we know what you're thinking. Yes, this is just a correlation, but after reaching out to groups like the National Restaurant Association, the Cornell University culinary schools program and others, we gathered data on US restaurant closure statistics to compare with our own pool of over 7,000 users. Since 2014, 0.13% of restaurants on our platform have shut their doors for good. Over the same period of time, we estimate that at least 3% of restaurants nationally closed.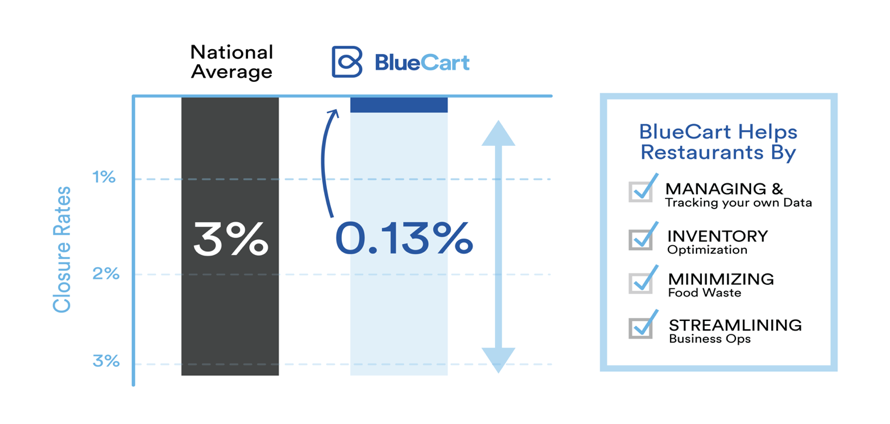 Again, this does not necessarily imply that adopting BlueCart will save your business, but it does say something about the restaurants that choose to use BlueCart. "When I look at these numbers, it's obviously about self-selection," said Michael Sanfilippo, Director of Culinary Operations at Cava Mezze group, "Restaurants that care about quality, care about their time, and restaurants that care about their time are obviously going to want to use BlueCart."
Sanfilippo, who directs operations at the group of full service restaurants that recently secured a $45M investment to expand nationwide, notes that the chefs who start using the BlueCart app are the kinds of chefs who are driven to improve and thrive in a difficult industry: "I use BlueCart to analyze spending across restaurants, and make smarter decisions about our business. This is an app for people who want to succeed."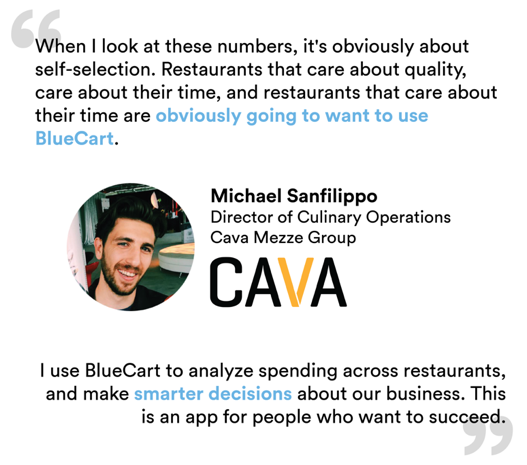 In an industry with razor thin margins, you just can't afford to ignore your own data. Having a front row seat to your daily inventory levels, yield levels, and food waste is a key ingredient in fast growing restaurant groups.
Since BlueCart entered the market, chefs and managers have been faced with what seems like a simple choice: Continue spending hours managing binders full of order guides, calling suppliers, and calculating inventory by hand, or adopt a free app that takes care of all those things for you in a fraction of the time. But, perhaps unsurprisingly, there are always some who refuse to join the thousands of restaurants signing up each month, and prefer doing things the old way, despite the massive inefficiencies and propensity for errors that hurt the bottom line. So maybe a simple question could predict whether your restaurant is at higher risk of failure: Given the opportunity, would you use BlueCart?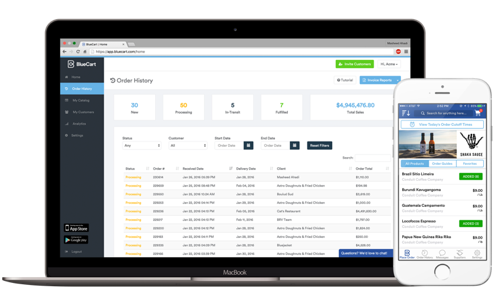 "Restaurants that care about quality, care about their time, and restaurants that care about their time are obviously going to want to use BlueCart."
Restaurants that say no risk sounding like Blockbuster in the age of Netflix, while restaurants that say yes are actively taking advantage of all the tools at their disposal to be the best they can be for their customers and investors. "BlueCart cuts out mindless paperwork, and lets us look at the big picture through automatically generated data and analytics tools," Sanfilippo says, "Growing as quickly as we are would be a lot more difficult without BlueCart in our kitchens."
Turns out, just staying in business may be a lot more difficult without BlueCart too.