You are here
Citi Open Partners with Hospitality and Culinary Trailblazers to Create A World-Class, Reimagined Fan Experience
Hospitality industry leader Levy to showcase culinary collaborations featuring iconic Chef José Andrés and other popular D.C. and national eateries as part of elevated hospitality and concessions offerings
Award-winning food lineup includes Beefsteak, Pepe, Butterfly Tacos y Tortas, Shake Shack, Marra Forni Neopolitan Pizza, Dolcezza Gelato, Ice Cream Jubilee, Compass Coffee, and OakBerry Acai Bowls + new hospitality concepts Market Square,

Moët & Chandon Stadium Club, and Amstel Light Beer Garden & Rock Creek Grill create premium food and beverage service areas all across the grounds
WASHINGTON, D.C. (July 8, 2019) –
When fans enter the 2019 Citi Open later this month, they will be welcomed to a reimagined fan experience showcasing D.C.'s most innovative culinary fare in stunning new hospitality settings.
From the visionary concepts of internationally-acclaimed Chef José Andrés to the air-conditioned comfort of the tournament's newest gathering spot Market Square, the 2019 Citi Open will be the home of a new world-class culinary experience as "Washington's Summer Tradition Reimagined" teams up with Levy, the industry leader in sports and entertainment hospitality.
Tournament officials today announced Levy will be the exclusive food and beverage partner for the long-running tennis tournament. Levy, who serves up the US Open, Indian Wells and other leading sporting events in the world, will rebrand concessions and VIP hospitality fare throughout the tournament grounds with customized menus from Chef Andrés and favored local D.C. eateries. The lineup of popular District and national dining options that will be featured at the Citi Open includes José Andrés' Pepe, Beefsteak and Butterfly Taco y Tortas as well as Shake Shack, Marra Forni Neapolitan Pizza, Dolcezza Gelato, Ice Cream Jubilee, Compass Coffee, and OakBerry Acai Bowls.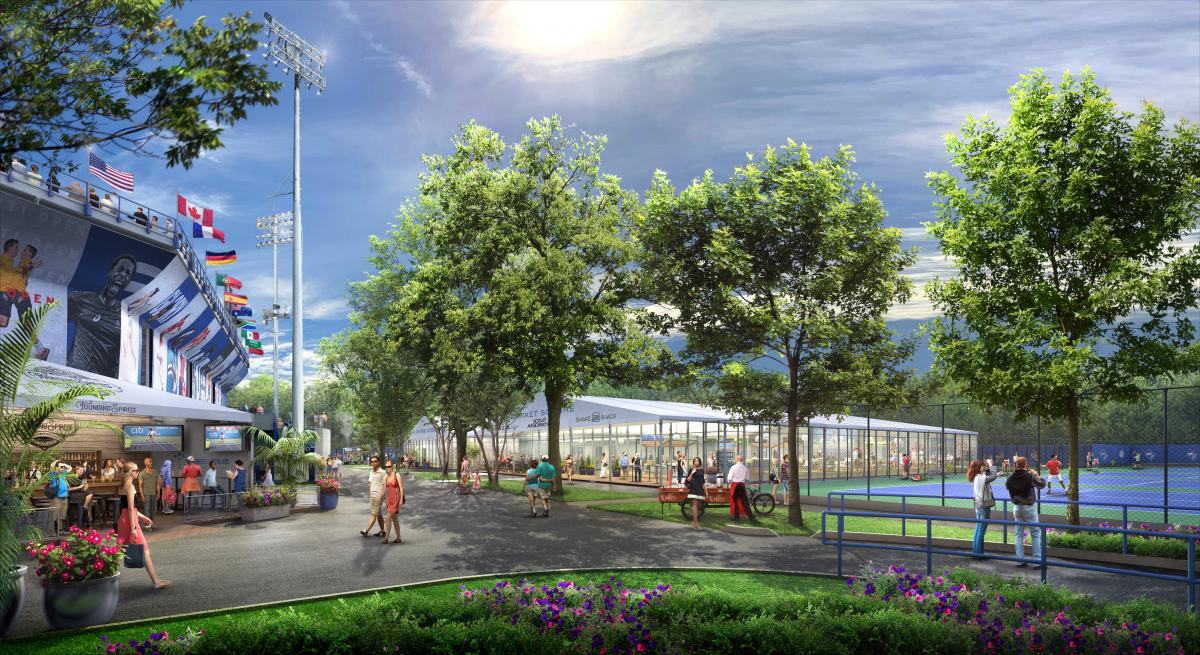 The most talked about dining scene in Washington, D.C. this summer will be on the Citi Open grounds as event organizers introduce a food and beverage lineup worthy of the fifth-largest professional tennis tournament in the U.S. The upscale hospitality will include the introduction of two new dining areas – Market Square and the Moët & Chandon Stadium Club. Market Square is a fully-enclosed, air-conditioned tent that will be open to all fans free-of-charge and home to food, beverage, music, and entertainment with front row seats to the tournament's practice courts.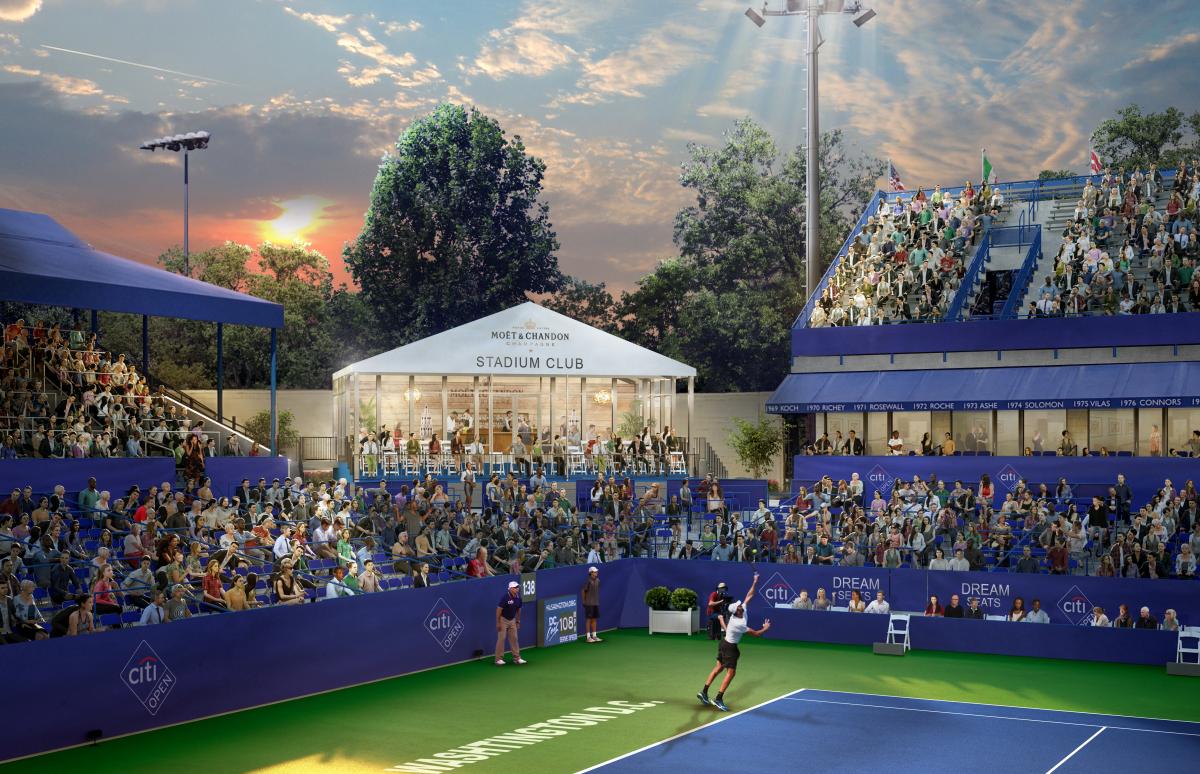 The 2019 Citi Open, which annually draws more than 75,000 fans, will be the first edition of this long-running sports classic under the direction of MDE Tennis, the sports management company headed by Washington entrepreneur and philanthropist Mark Ein, CEO of MDE Tennis. The tournament begins July 27 and runs through August 4 at the Rock Creek Park Tennis Center.
Ein said the outstanding tennis will bring many fans in the gates, but the redesigned hospitality experience and upgraded culinary fare will keep them coming back and staying longer. "When fans experience first-hand these reimagined food and hospitality areas, the city will be buzzing about the Citi Open as the place to be in DC each day and night of that special week," said Ein. "With best-in-class partners like José Andrés, Levy, Moët & Chandon, Dolcezza, Founding Spirits and many others, we have assembled an amazing team to bring our vision of an unparalleled, world class fan experience to life."
"As we began our partnership with the Citi Open, we were immediately and deeply impressed with their commitment to crafting a world-class approach to hospitality at what has become one of the best tournaments on the tennis calendar," said Andy Lansing, President and CEO of Levy. "Guests at this year's Citi Open will experience food and beverage unlike anything they've seen before at the tournament, inspired by the incredible culinary scene in Washington, D.C. and the culinary leadership of José Andrés."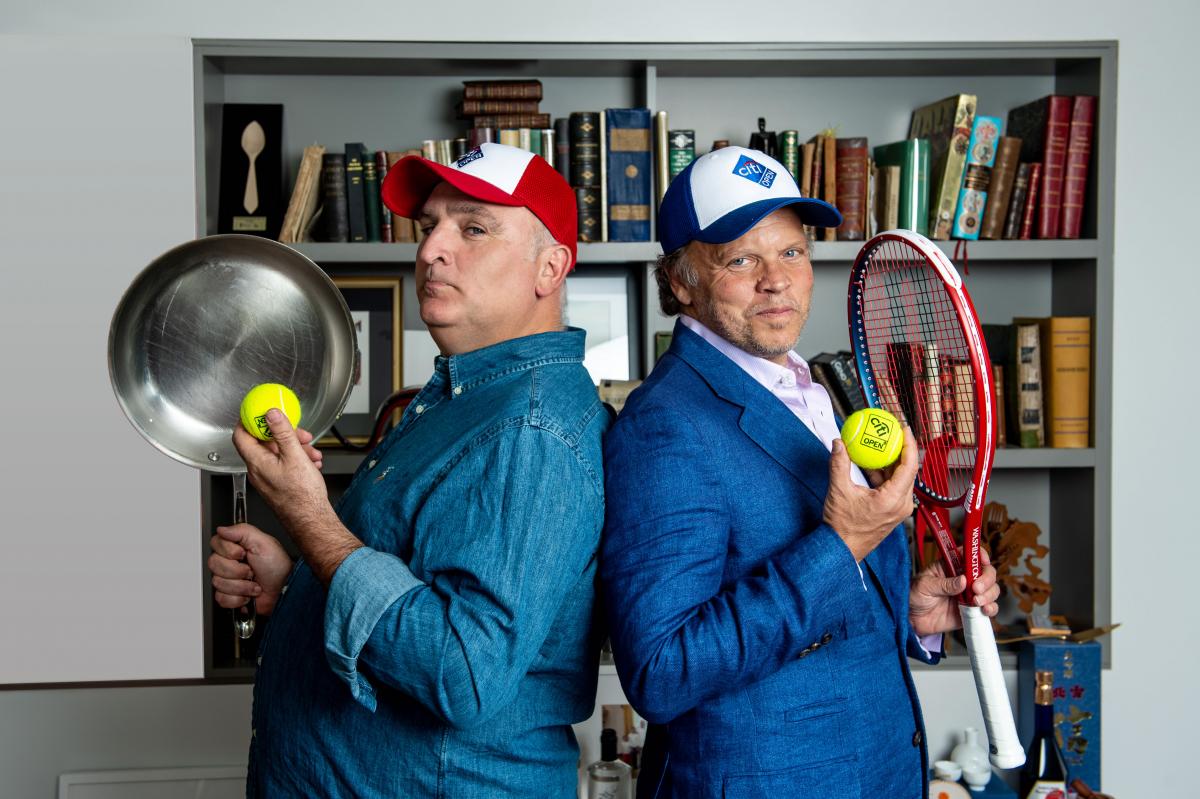 Chef Andrés, who was recently named as the recipient of the prestigious 2019 Julia Child Award, and his ThinkFoodGroup team will provide diverse offerings, with a varied set of dining options spread throughout the expansive grounds. José's Way, a new area dedicated to Chef Andrés culinary innovation, will include the critically-acclaimed food truck, Pepe, which will be serving up Spanish sandwiches, bocatas and flautas; Beefsteak, a vegetable-forward, fast-casual dining option; and a sangria bar.
Featured dining options in Market Square include Andrés' Beefsteak, as well as his Butterfly Taco y Tortas, which is inspired by Mexico City's vibrant street culture and Mexico's rich regional diversity. Shake Shack brings their much-loved burgers and crinkle cut fries to the Market Square lineup. The beverage menu will include Founding Spirits, Frosé, Amstel Light, Moet Hennessy products, and a Chef Andrés -inspired sangria bar.
"We're so excited to bring three of our most beloved fast casual concepts to Citi Open," said ThinkFoodGroup COO Eric Martino. "Our partnership with Levy has enabled us to now reach tennis fans, and we look forward to welcoming them and providing them with unique dining experiences."
Pop-up dining options throughout the grounds include Ice Cream Jubilee, which will be serving up their premium local cream which is consistently voted the best ice cream in Washington. Dolcezza, named Best Gelato in DC for four consecutive years, will be serving old world gelato with locally sourced ingredients. Pizza prepared in the world-famous Marra Forni handcrafted brick ovens will give consumers a taste of authentic Neapolitan-style pizza. Popular D.C. area roaster Compass Coffee will present a cold brew coffee bar, and healthy fast food will be on the menus in the concession areas with vendors like OakBerry Acai Bowls, featuring organic certified and 100% natural acai from Brazil.
Box seat, suite ticket holders and Citigold clients will enjoy the exclusive new Citigold Garden Club. Located at South Entrance, the Citigold Garden Club includes an acclaimed menu of food and beverage options, table service and some unique share worthy experiences in an air-conditioned enclosed tent.
Founding Spirits, the Official Vodka & Whiskey of the Citi Open, introduces a new place for fans to relax with the Founding Spirits Cocktail Lounge. This shaded, open-space casual bar will feature mixologists serving up the tournament's signature cocktail – returning fan favorite "Match Point Mule" with Founding Spirits vodka. Another new addition to the grounds is the Amstel Light Beer Garden & Rock Creek Grill, a shaded outdoor bar located next to the Citigold Garden Club, where patrons can enjoy the Heineken beverage portfolio paired with favorite ale snacks between matches.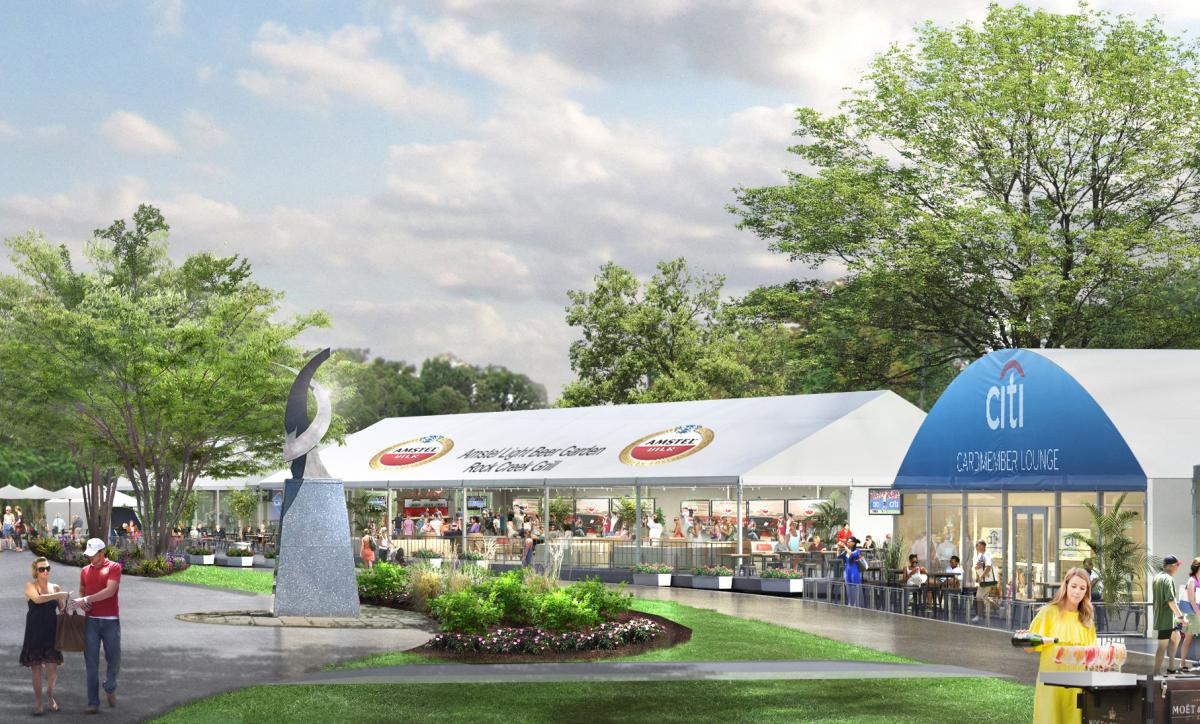 Citi cardmembers can access the Citi Lounge starting on Monday of tournament week to relax in the air-conditioned tent, featuring complimentary non-alcoholic drinks and light snacks. In addition, Citi cardmembers also receive access to an exclusive Buy One, Get One ticket offer and discounts on Citi Open branded merchandise on-site.
Single session tickets, which start at $25, are available at www.CitiOpenTennis.com or by calling the Tournament Hotline at 202-721-9500. Limited full-series and weekender ticket packages are also available.
Added for 2019 are 10 Dream Seats, a limited section of one-of-a-kind series seating that is located on the court giving fans one of the only opportunities in the world to sit feet away from the best players in the world during matches. Full series Dream Seat buyers will have access to the Moët & Chandon Stadium Clubamenities and will receive invitations to a series of exclusive events including the Citi Taste of Tennis, the Official Player Party of the Citi Open on July 29. Special guests for Citi Taste of Tennis are expected to include John Isner, Sloane Stephens, Chef Jerome Grant and many others. Check out www.tasteoftennis.com for additional information.
Premium seating ticket packages for the Moët & Chandon Stadium Club, Dream Seats or hospitality courtside suites are available by calling 202.654.7020.
Fans can gear up for the tournament with a selection of new Citi Open merchandise from the upscale lifestyle and tennis collection at the Citi Open Pro Shop located near the North Entrance. The shop will feature offerings from Vineyard Vines, the Official Apparel of the Citi Open, along with other leading merchandise partners.
The player field for the 2019 Citi Open is a remarkable collection of current champions, next-generation stars and fan favorites from both the ATP and WTA Tours, with five Top 10 players headlining the field. ATP players scheduled for the 2019 tournament include world No. 6 Stefanos Tsitsipas, Kei Nishikori (No. 7), Kevin Anderson (No. 8), Russian Karen Khachanov (No. 9), top-ranked American John Isner (No. 12), 2016 Citi Open champion Gael Monfils and his fellow Frenchmen Jo-Wilfried Tsonga and Benoit Paire, Australian fan favorite Nick Kyrgios, and next-generation standouts Australian Alex de Minaur, Canadians Felix Auger-Aliassime and Denis Shapovalov, plus hometown favorite Frances Tiafoe of Hyattsville, Md.
World No. 9 Sloane Stephens heads up a stellar women's field that also features 2019 Indian Wells champion Bianca Andreescu, Americans Madison Keys and Sofia Kenin, world No. 13 Belinda Bencic, Olympic Gold medalist Monica Puig, and Canadian Genie Bouchard, a former Top 5 player.
Citi Open, which is home to the only ATP 500 tournament in the U.S. and one of only 13 around the world, returns to the US Open Series for the first time since 2014. The US Open Series is a summer hard-court swing of men's and women's tournaments leading up to the US Open. Other US Open Series cities include Atlanta (ATP), San José (WTA), Toronto (WTA), Montreal (ATP), Cincinnati (ATP/WTA), Winston-Salem (ATP).
The longtime beneficiary of Citi Open is the Washington Tennis & Education Foundation, a non-profit which provides free tennis and educational programs for children in underserved communities. The tournament is one of WTEF's biggest annual fundraisers and has raised millions for youth programs in the Washington D.C. area.
About Citi Open Tournament:
The Citi Open® tournament has been Washington, D.C.'s premier tennis event since 1969 and benefits the Washington Tennis & Education Foundation (WTEF), the tournament's non-profit owner and beneficiary. Beginning in 2019, venture capitalist and entrepreneur Mark Ein will manage and operate the tournament under an agreement with WTEF. The organization provides underserved children in the D.C.-area with a safe environment to learn critical life skills both on and off the courts through academic and athletic enrichment. The Citi Open Tennis Tournament is one of only 13 elite ATP World Tour 500-level events worldwide and the only one held in the United States. The tournament also features a WTA International Tournament, which provides fans the opportunity to watch simultaneous competitions of both world-class men's and women's tennis throughout the nine-day event. It is one of only five U.S. tournaments that include both men's and women's fields. Washington is one of the five largest tennis events in the United States and one of only five tour events featuring players from both the ATP and WTA Tours competing simultaneously. After 50 years, it is also the longest running pro tennis event at the same site in the United States.
About Citi:
Citi, the leading global bank, has approximately 200 million customer accounts and does business in more than 160 countries and jurisdictions. Citi provides consumers, corporations, governments and institutions with a broad range of financial products and services, including consumer banking and credit, corporate and investment banking, securities brokerage, transaction services, and wealth management. Additional information may be found at
www.citigroup.com/|
Twitter: @Citi | YouTube:
www.youtube.com/citi|
Blog:
http://blog.citigroup.com
| Facebook:
www.facebook.com/citi|
LinkedIn:
www.linkedin.com/company/citi
.
About MDE Tennis:
MDE Tennis, which is part of MDE Sports & Entertainment, oversees operations for Citi Open and the Washington Kastles. Mark D. Ein is the CEO of MDE Sports & Entertainment and MDE Tennis. Ein is an investor, entrepreneur, and philanthropist, who has created, acquired, invested in and built a series of growth companies across a diverse set of industries over the course of his 30-year career. During this time, Ein has been involved in the founding or early stages of six companies that have been worth over one billion dollars and has led over $1.8 billion of private equity, venture capital, and public company investments. Ein is the Founder and CEO of Capitol Investment Corporation 4 (NYSE:CIC), Venturehouse Group, LLC and Leland Investment Co.
Ein actively supports many community, charitable and cultural organizations and currently serves on the boards of the DC Public Education Fund, the Smithsonian National Museum of Natural History, International Tennis Hall of Fame, DC College Access Program (DC-CAP), and DC Policy Center (Co-Founder). He formerly served on the Board of the United States Tennis Association (USTA) from 2012-2018 (serving as a Vice President of the Board from 2016-2018). Ein has been a member of the World Economic Forum since 2016, and the Gridiron Club, the oldest and one of the most prestigious journalistic organizations in Washington, D.C.
A native of the Washington, D.C., area and a ball boy in his youth at the city's summer pro tennis tournament that became the Citi Open, Ein is also the Founder and Owner of the Washington Kastles, the most successful team in World TeamTennis history. The Kastles have won the league championship six of its 11 years since its founding and holds the record for the longest winning streak in U.S. pro team sports history winning 34 straight matches from 2011 through 2013. In September 2009, Washington D.C. Mayor Adrian Fenty presented Ein with the Key to the City, highlighting his Washington Kastles success on the court and, "for their commitment to the District's communities and our youth."
In September 2018, Ein founded the Washington Justice esports franchise in the Overwatch League, bringing the premier global esports league to the greater Washington, D.C. region. Also, in 2018, Ein acquired the Washington City Paper, the renowned weekly paper serving the Washington, D.C. metropolitan area since 1981. In 2019, Ein took over management and operation of Citi Open in Washington, D.C., one of only five U.S. professional tennis tournaments that include both men's and women's fields.
About Levy:
The disruptor in defining the premium sports and entertainment dining experience, Levy is recognized as one of the fastest growing and most critically acclaimed hospitality companies. Named one of the 10 most innovative companies in sports by Fast Company magazine, Levy's diverse portfolio includes award-winning restaurants, iconic sports and entertainment venues, and convention centers as well as the Super Bowl, Grammy Awards, PGA Championship, US Open Tennis Tournament, Kentucky Derby, and NHL, MLB, and NBA All-Star Games. For more, visit
www.levyrestaurants.com
or follow us on
Facebook
,
Twitter
, or
Instagram
.
About ThinkFoodGroup and José Andrés
:
Founded by Chef José Andrés and his partner Rob Wilder, ThinkFoodGroup is the creative team responsible for renowned dining concepts in Washington, D.C., Las Vegas, Los Angeles, Miami, Texas, the Bahamas, and most recently in Orlando and New York City. The more than 30 restaurants share a variety of culinary experiences that span from food trucks to world-class tasting menus, including two with two Michelin stars: minibar by José Andrés in Washington, D.C., and Somni at the SLS Beverly Hills.
Twice named one of Time's "100 Most Influential People" and awarded "Outstanding Chef" and "Humanitarian of the Year" by the James Beard Foundation, José Andrés is an internationally-recognized culinary innovator, New York Times bestselling author, educator, television personality, humanitarian and chef and owner of ThinkFoodGroup. For more information, visit
www.thinkfoodgroup.com
.
About WTEF:
The Washington Tennis & Education Foundation (WTEF) is a premier educational and tennis organization for underserved children in Washington, D.C. The mission of WTEF is to improve the life prospects of low-income, underserved children and youth in the District of Columbia through athletic and academic enrichment. We seek to keep children off city streets during out-of-school time in a safe environment they can trust. We also engage them in productive activities that teach discipline, build confidence, improve school performance, and encourage a healthy lifestyle. We empower our students to achieve their highest potential by helping them develop meaningful values and critical life skills that will lead them to make constructive life choices. WTEF builds life champions. For more information, visit
www.wtef.org
.