You are here
Delicious Cocktails
We asked the top mixologists in the DC area what cocktails never fail to impress.
Darkside: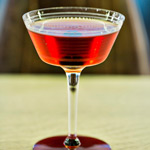 Created by: Adam Bernbach, Bar Director 2 Birds 1 Stone, doi moi, Esadio & Proof
2.25oz. Plymouth gin
0.75oz. Cocchi Barolo Chinato
2 Dashes Peychaud bitters
Stir. Strain into a Coupe or Cocktail glass.
Garnish with a brandied cherry.
Rossellini: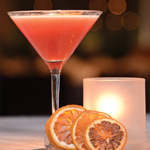 Created by: Mitchell Malnati, Beverage Director Fig & Olive
Ingredients:
1 oz Blood orange purée & water (50/50 mix) 3⁄4 oz Lime juice
3⁄4 oz Simple syrup
2 oz Passionfruit vodka
1 slice Dehydrated orange
Execution:
1 In a shaker, add 1 ounce of blood orange juice
2 Add 3⁄4 ounce lime juice
3 Add 3⁄4 ounce simple syrup
4 Add 2 ounces passionfruit vodka
5 Add ice and shake until chilled
6 Strain into martini glass
7 Garnish with a dehydrated orange slice
Who's On It:
Created by: Ted Freeseman, Head Bartender The Gibson
Ingredients:
A highball glass
1 oz Gin. We'll use old tom gin. It has a balance that's a little more sweet and citrus forward than a dry, or even most American gins
1/2 oz Domaine de Canton
1/2 oz Lemon juice
2 dashes Peychaud's Bitters
Tonic water
Execution:
Pour the liquor and juice into your glass, add a couple dashes of bitters, and fill with ice. Pour tonic water over the mixture and stir until the bitters have mixed in, leaving a light red/pink color throughout. Garnish with a lemon wheel, and you'll have a refreshing drink through the seasons.
Which Came First:
Created by: Steve Fowler, Director of Food and Beverage for The Grill Room
1.5 oz Green Hat Gin
1 oz Baltimore Rainwater Madeira
.5 oz Pommegranite Juice
.25 oz St. Elizabeth Allspice Dram