You are here
Featured New Year's Eve Specials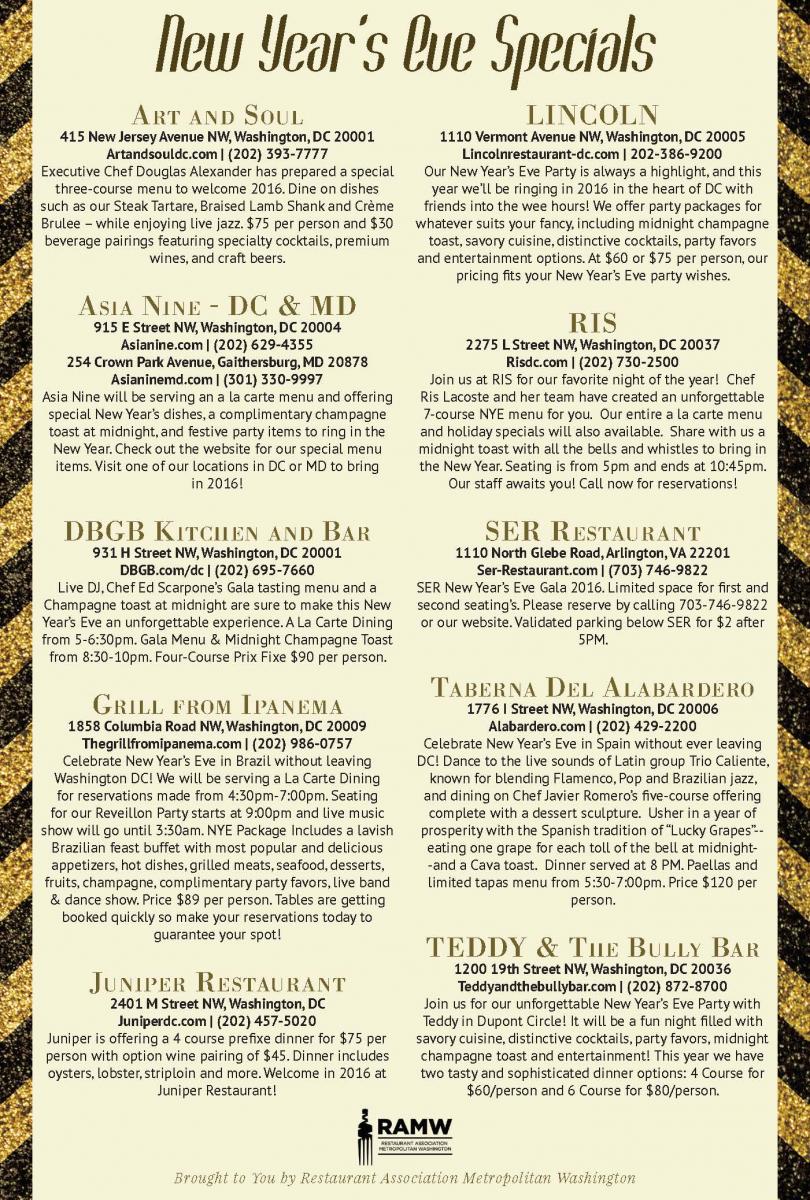 Art and Soul
415 New Jersey Avenue NW, Washington, DC 20001
Artandsouldc.com | (202) 393-7777
Executive Chef Douglas Alexander has prepared a special three-course menu to welcome 2016. Dine on dishes such as our Steak Tartare, Braised Lamb Shank and Crème Brulee – while enjoying live jazz. $75 per person and $30 beverage pairings featuring specialty cocktails, premium wines, and craft beers.
Asia Nine - DC & MD
915 E Street NW, Washington, DC 20004
Asianine.com | (202) 629-4355
254 Crown Park Avenue, Gaithersburg, MD 20878
Asianinemd.com | (301) 330-9997
Asia Nine will be serving an a la carte menu and offering special New Year's dishes, a complimentary champagne toast at midnight, and festive party items to ring in the New Year. Check out the website for our special menu items. Visit one of our locations in DC or MD to bring in 2016!
DBGB Kitchen and Bar
931 H Street NW, Washington, DC 20001
DBGB.com/dc | (202) 695-7660
Live DJ, Chef Ed Scarpone's Gala tasting menu and a Champagne toast at midnight are sure to make this New Year's Eve an unforgettable experience. A La Carte Dining from 5-6:30pm. Gala Menu & Midnight Champagne Toast from 8:30-10pm. Four-Course Prix Fixe $90 per person.
Grill from Ipanema
1858 Columbia Road NW, Washington, DC 20009
Thegrillfromipanema.com | (202) 986-0757
Celebrate New Year's Eve in Brazil without leaving Washington DC! We will be serving a La Carte Dining for reservations made from 4:30pm-7:00pm. Seating for our Reveillon Party starts at 9:00pm and live music show will go until 3:30am. NYE Package Includes a lavish Brazilian feast buffet with most popular and delicious appetizers, hot dishes, grilled meats, seafood, desserts, fruits, champagne, complimentary party favors, live band & dance show. Price $89 per person. Tables are getting booked quickly so make your reservations today to guarantee your spot!
Juniper Restaurant
2401 M Street NW, Washington, DC
Juniperdc.com | (202) 457-5020
Juniper is offering a 4 course prefixe dinner for $75 per person with option wine pairing of $45. Dinner includes oysters, lobster, striploin and more. Welcome in 2016 at Juniper Restaurant!
LINCOLN
1110 Vermont Avenue NW, Washington, DC 20005
Lincolnrestaurant-dc.com | 202-386-9200
Our New Year's Eve Party is always a highlight, and this year we'll be ringing in 2016 in the heart of DC with friends into the wee hours! We offer party packages for whatever suits your fancy, including midnight champagne toast, savory cuisine, distinctive cocktails, party favors and entertainment options. At $60 or $75 per person, our pricing fits your New Year's Eve party wishes.
RIS
2275 L Street NW, Washington, DC 20037
Risdc.com | (202) 730-2500
Join us at RIS for our favorite night of the year! Chef Ris Lacoste and her team have created an unforgettable 7-course NYE menu for you. Our entire a la carte menu and holiday specials will also available. Share with us a midnight toast with all the bells and whistles to bring in the New Year. Seating is from 5pm and ends at 10:45pm. Our staff awaits you! Call now for reservations!
SER Restaurant
1110 North Glebe Road, Arlington, VA 22201
Ser-Restaurant.com | (703) 746-9822
SER New Year's Eve Gala 2016. Limited space for first and second seating's. Please reserve by calling 703-746-9822 or our website. Validated parking below SER for $2 after 5PM.
Taberna Del Alabardero
1776 I Street NW, Washington, DC 20006
Alabardero.com | (202) 429-2200
Celebrate New Year's Eve in Spain without ever leaving DC! Dance to the live sounds of Latin group Trio Caliente, known for blending Flamenco, Pop and Brazilian jazz, and dining on Chef Javier Romero's five-course offering complete with a dessert sculpture. Usher in a year of prosperity with the Spanish tradition of "Lucky Grapes"--eating one grape for each toll of the bell at midnight--and a Cava toast. Dinner served at 8 PM. Paellas and limited tapas menu from 5:30-7:00pm. Price $120 per person.
TEDDY & The Bully Bar
1200 19th Street NW, Washington, DC 20036
Teddyandthebullybar.com | (202) 872-8700
Join us for our unforgettable New Year's Eve Party with Teddy in Dupont Circle! It will be a fun night filled with savory cuisine, distinctive cocktails, party favors, midnight champagne toast and entertainment! This year we have two tasty and sophisticated dinner options: 4 Course for $60/person and 6 Course for $80/person.