You are here
Video: Working With Your Food Distributor In Times Of Change
For many years, a restaurant's relationship with their food distributor has been primarily a transactional nature. Finding the best products at the best prices has been the norm which has led to a relationship of "I need you, but am I willing to partner with you to grow my business?"

One strategy many restaurants used over the past year to remain viable in the marketplace was to partner with their food distributor. The video below features Tom Enright from FoodPRO, an RAMW Industry Partner, who speaks about how your food distributor can help you reach a new level of success during these changing times with their many resources.
View the video and then take a short five-question survey to receive a free e-book with tips on how you can adapt your business to the current restaurant environment.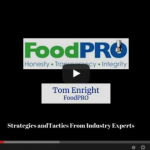 If you have questions regarding the "Changing Strategies for Changing Times" series, please contact us.

​
Tom Enright, Senior Key Account Manager, Food PRO, at tenright@foodprocorp.com or (301) 370-2593.
Joe Welsh, CORE Restaurant Marketing, at jwelsh@corerestaurantmarketing.com or 888-890-9492 x1.