You are here
DO YOU HAVE A FAVORITE GREEN BUSINESS?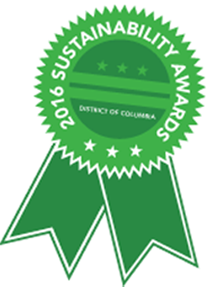 If you live or work in the District of Columbia, you may nominate your favorite sustainability champion, green business, or nonprofit partner for the 2016 District Sustainability Awards.
Send us 2 or 3 sentences describing their sustainable activity or project. Please be as specific as possible in your description (e.g., Company ABC installed a green roof and solar panels). DOEE will post the names of the individuals, companies, and organizations that have submitted an application and have made it through the first review process and on September 1, we will ask foryour vote to pick the winner!