You are here
New Year's Resolution Recipes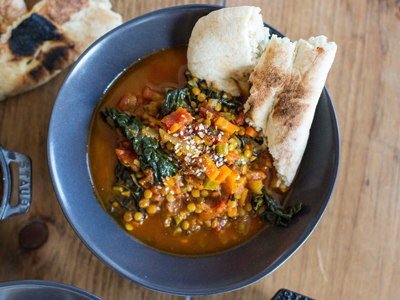 Spicy Harissa Lentil Stew with Dark Greens and Turmeric
From CAVA
Ingredients:
1 tablespoon olive oil 1 yellow onion, diced
2 cloves garlic, minced 1 shallot, minced
3 carrots, peeled and finely chopped 1 teaspoon ground cumin
1/2 teaspoon ground coriander 1/2 teaspoon ground turmeric 1 teaspoon kosher salt
1/2 teaspoon fresh cracked pepper 1/2 cup green lentils
2 15-ounce cans fire-roasted diced tomatoes 4-5 cups low-sodium vegetable stock
1 teaspoon grated fresh ginger 2-3 tablespoons CAVA Harissa 1 bay leaf
1 large bunch lacinato kale or preferred dark greens, stems removed and finely chopped, leaves roughly torn
Directions:
Add olive oil to a large heavy-bottomed stockpot and heat to medium. Add onion, garlic, shallot, carrots, and greens stems, and sauté until softened, about 7 to 8 minutes. Add cumin, coriander, turmeric, salt, and pepper, and sauté for another minute or two. Add lentils and diced tomatoes and stir to combine. Add 4 cups of stock, grated ginger, harissa, and the bay leaf, and simmer over medium-low heat for about 30 minutes, until lentils are tender. Add additional stock to achieve a thinner consistency if you prefer. Add torn greens to the stew and cook an additional 3 to 4 minutes, until greens have wilted. Remove bay leaf before serving. Taste and season to your liking.
Serve stew by itself or over a warm bowl of grains. Add a dollop of Greek yogurt or a sprinkle of fresh chopped parsley if you like.
---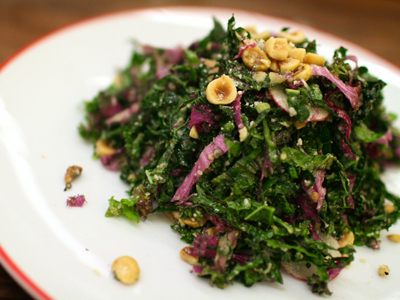 Purple+Black Kale Salad
From Farmers & Distillers
SERVES 4
Ingredients:
VINAIGRETTE
1 small clove garlic, minced 2 tablespoons red wine vinegar
1 teaspoon water
1⁄8 teaspoon kosher salt 3⁄4 teaspoon granulated sugar
1⁄4 teaspoon dry mustard Pinch of freshly cracked black pepper
Pinch of crushed red chili flakes
Pinch of dried oregano
1⁄2 cup extra-virgin olive oil
SALAD
1⁄2 bunch purple kale, ribs removed, leaves torn or roughly chopped
1⁄2 bunch black (lacinato or dinosaur) kale, ribs removed, leaves torn or roughly chopped
1⁄2 cup freshly grated Pecorino Romano cheese
4 dried dates, pitted and diced
4 red radishes, very thinly sliced
1⁄4 cup blanched hazelnuts, toasted and roughly chopped
1⁄4 teaspoon freshly cracked black pepper
Directions:
Whisk together the garlic, vinegar, water, salt, sugar, dry mustard, black pepper, crushed red chili flakes, and oregano in a small bowl. Continue to whisk and slowly drizzle in the olive oil to emulsify and thicken the vinaigrette. Toss all of the salad ingredients with the vinaigrette in a large bowl. Serve immediately.
---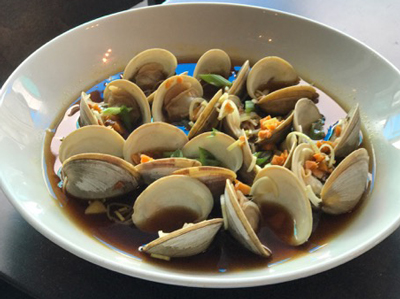 Soy Dashi Clams - Little Neck Clams, Leeks & Roasted Sweet Potato
From Executive Chef Steve Mason at The Grilled Oyster Company
Ingredients:
4 inch kombu
1 oz dried shiitake mushrooms
4 oz fresh shiitake mushrooms
1/2 cup diced roasted sweet potato
1/2 cup sliced leeks
30 littleneck clams
3/4 cup soy sauce
8 cups water
Green onion (for garnish)
Directions:
Boil water and dried mushrooms. Once water boils take off heat and cover for 10 mins. After 10 mins add fresh mushrooms and kombu bring to a simmer for 1 hour. After 1 hour take off heat and strain liquid through mesh to take out all particles. Add soy sauce to broth and taste to make sure more salt is not needed. Set aside broth.
To make dish:
Add enough broth to pot with clams and open clams in broth. Keep broth hot but not boiling or reducing. Add leeks and sweet potatoes to two bowls and place cooked clams in each bowl. Pour broth over clams and garnish with green onion.
---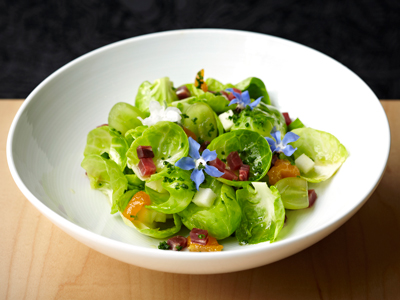 Ensalada de Coles de Bruselas Brussels Sprout Salad
From Jaleo by José Andrés
Serves 4
Ingredients:
For the sherry vinaigrette
4 tablespoons Spanish extra-virgin olive oil 1 tablespoon sherry vinegar
For the salad
3 dried apricots, diced into ¼-inch pieces 1 tablespoon ¼-inch diced jamón Serrano
½ pound Brussels sprouts, leaves pulled apart and stems discarded 2 tablespoons diced Granny Smith apples
3 green grapes, halved Sea salt, to taste
Directions:
In a small bowl, whisk together the sherry vinegar and olive oil to make the sherry vinaigrette. Season with salt to taste, and set aside.
Place apricots in a bowl. Boil water in a kettle and pour over apricots until they are covered. Let apricots sit until they are plump, about 10-20 minutes. Remove and place on a paper towel to dry, then set aside.
Meanwhile, in a small sauté pan over medium heat, quickly sauté the jamón to warm through but not color, no more than 30 seconds. Remove the jamón from the heat and set aside.
Bring a large pot of salted water to a boil. Add the Brussels sprout leaves to the pot and cook for 90 seconds. Using a slotted spoon, remove the leaves from the water and drain them on a paper towel to dry. In a large bowl, combine the Brussels sprout leaves with the apricots, apples, and grapes. Sprinkle the salad with the sautéed jamón and drizzle with 1 to 2 teaspoons, or more if you'd like, of the sherry vinaigrette. Season with salt to taste, and serve.