You are here
RAMMYS Upscale Casual Restaurant Finalists Recipes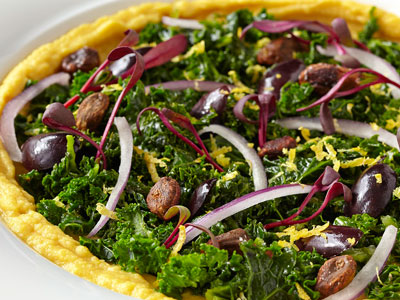 Horta Salata (Serves 4)
For the Fava Santorini:
1/2 cup dried yellow split peas 2 tablespoons minced onion
1 clove garlic, minced
Pinch of saffron
Pinch of dried red pepper, such as cayenne, or as needed Juice from 1 lemon, plus more if needed
Olive oil, to taste
Soak the split peas in enough cold water to cover for 5 minutes, remove any debris or stones.
Drain split peas and place in a pot with 2 cups of water. Bring to a gentle simmer, skimming any froth that rises to the top. Add onion, garlic, saffron, red pepper and a pinch of salt. Simmer gently until beans are soft adding more water if necessary. When split peas are completely cooked and soft, drain, reserving cooking liquid.
Pour cooked split peas while still warm into food processor and process while drizzling in lemon juice and olive oil and cooking liquid as necessary to achieve a nice, smooth, thick purée. Season to taste with salt and additional olive oil, red pepper and/or lemon juice.
For the Ladolemono Dressing:
1/2 cup olive oil
1 tablespoon honey
1/4 cup freshly squeezed lemon juice
Salt and freshly ground black pepper, to taste
In a small bowl, whisk together the honey, lemon juice, a pinch of salt and a twist of pepper. Continue whisking while drizzling in olive oil. You should have a creamy looking emulsion. Season with salt and pepper, to taste
For the salad:
1 bunch kale, stems removed, blanched and shocked in an ice bath 3 sprigs fresh dill, stems removed
6 Kalamata olives, pitted and smoked 2 tablespoons thinly sliced red onion
2 tablespoons roasted and salted pistachios 1 lemon
1 tablespoon extra-­‐virgin olive oil Salt, to taste
Spread the Fava Santorini on the bottom of a bowl. Toss the kale, dill, and onion together with the Ladelomono. Place gently on top of the Fava Santorini.
Garnish with pistachios, smoked olives, and the zest from 1/4 of the lemon using a microplane.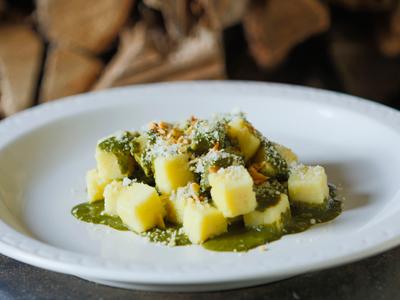 Chef Mike Friedman, The Red Hen
Gnocchi alla Romana (Semolina Baked Gnocchi)
2 quarts whole milk
3 cups semolina flour
2 cups parmesan, finely grated (plus more for sprinkling)
½ pound butter, unsalted, cut into small cubes
4 ea egg yolks
salt, to taste
In a saucepan, bring milk to a boil over medium heat. While the milk is heating up, butter a sheet tray and keep to the side. Preheat your oven to 350 F.
When the milk is just at a boil, slowly pour the semolina flour in while whisking. The mixture will thicken almost immediately. Continue whisking for 2 minutes, then trade the whisk for a rubber spatula.
Add the parmesan and butter to the saucepan and mix well.
Take the pot off of the heat and fold in the egg yolks until they are fully incorporated.
Pour the mixture into the buttered sheet tray and flatten evenly. Scatter more parmesan on top.
Bake the gnocchi for 25-30 minutes at 350 F, or until the parmesan has browned nicely on top. Set aside to cool for 30 minutes.
When the gnocchi is cool enough to handle, either cut them on the baking tray or invert the pan onto a cutting board. The gnocchi should slide off the tray easily. Cut into large squares and serve them warm with more parmesan sprinkled on top.
NOTE: The gnocchi has a shelf-life of 3 days in the refrigerator.
Hotate Midori
Sushiko's pan seared sea scallop with cilantro dashi purée.
Ingredients
3 pc. sea scallop
1 pc. English cucumber
Bunch of micro cilantro for garnish
Pinch of salt to taste
1 oz. canola oil
Directions for Seared Scallops
Remove the small side muscle from the scallops, rinse with cold water and thoroughly pat dry.
In a small sauté pan, lightly heat 1 oz. canola oil over high heat. Once the oil begins to smoke, gently add the scallops, making sure they are not touching each other. Sear the scallops for 1 & ½ minutes on each side. The scallops should have a ¼ -inch golden crust on each side while still being translucent in the center. Serve immediately.
Cilantro Dashi Purée Recipe
Ingredients
20 g chopped garlic
50 g chopped shallot
150 g cilantro leaf
150 g canola oil
1 g baking soda
2 g dashi
Pinch of salt to taste
Directions
In a small sauté pan, lightly heat 1 oz. canola oil over low heat then add chopped garlic, shallots, and pinch of salt to bring the flavor.
While the garlic and shallots are heating, bring a small saucepot of salt water to boil.
Prepare an ice bath to shock the cilantro after it is blanched.
Quickly blanch the cilantro in boiling water for about 20 seconds, then immediately shock cilantro in the ice bath.
Remove the cilantro from the ice bath and place on a paper towel to soak up excess water.
Put all of the ingredients in a blender and puree.
Once all of the ingredients are consistently pureed, remove them from the blender and cool down in the ice bath. Once they are cooled, they are ready to be used.