You are here
Thanksgiving Side Dishes

Cranberry Sauce
By Chef Samuel Kim at 1789 Restaurant
Ingredients:
1 lb fresh cranberries
1 pt fresh orange juice
1 knob fresh ginger
1 lime and orange zested
2 whole Tahitian vanilla pods
1 cup sugar
Salt and Pepper to taste
1 bunch of mint
Directions:
Empty a 1# bag of fresh cranberries into a saucepan and transfer 1/2 cup to a small bowl. Add 1 cup sugar, 1 strip orange or lemon zest and 2 tablespoons water to the pan and cook over low heat, stirring occasionally, until the sugar dissolves and the cranberries are soft, about 10 minutes. Increase the heat to medium and cook until the cranberries burst, about 12 minutes. Reduce the heat to low and stir in the reserved cranberries. Add sugar, salt and pepper to taste and the place bunch of mint into cranberry sauce allowing to cool to room temperature before serving.
---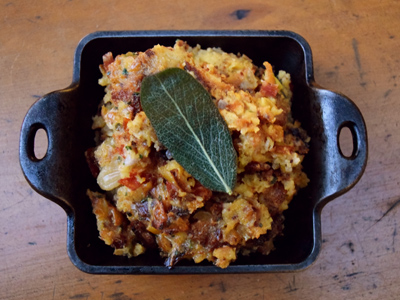 Cornbread Stuffing
By Chef Brad Deboy at Blue Duck Tavern
Ingredients:
3 cups cornmeal
1 cup flour
8 eggs
.5 tbsp salt
1 cup honey
¼ cup baking powder
1.25 cup canola oil
1 # creamed corn
Directions:
Mix and bake on a sheet ½ in thick spread out at 350 for 25 minutes
Cool and cut into a large dice, toast at 350 for 15 minutes or until dry and light color.
Take 4 quarts of toasted and diced cornbread and add
2 cups sautéed leeks in butter
1 tbsp thyme picked and chopped
2 cups ground and cooked chorizo or andoullie
1 cup roasted garlic
1 cup soft butter
4 cups chicken stock
One pinch cayenne
.5 tbsp tabasco
Juice of one lemon
6 eggs
One sleeve saltine crackers crushed
Render the sausage, remove from pan and add the leeks and garlic with the butter, cook until soft. Add the chicken stock, lemon juice, cornbread and sausage and the saltines in a bowl, mix and season with salt and black pepper. Put into a baking dish 2 inches high, bake at 350 for 25 minutes
---

Pomme Puree
By Chef Michael Abt at Le Diplomate Restaurant
Ingredients:
Yields: 10 x 8 oz portions
3 pounds medium Yukon Gold "A" Potato, Peeled
1.5 pounds Unsalted Butter, cut into tablespoon-size chunks and chilled
1.5 cups Half and Half, warmed
1.5 tablespoons Kosher Salt
Pinch White Pepper, ground
Directions:
1. Place the potatoes in a medium sized pot and cover with cold salted water.
2. Bring to a boil, reduce the heat to a simmer and cook for about 30 minutes, or until the potatoes are cooked through
3. While the potatoes are cooking, place a food mill with the finest holes over a medium sized pot. If you don't have a food mill, a potato ricer will as work well.
4. When the potatoes are cooked, drain into a colander and let them sit for a couple of minutes to dry. ***NOTE: It is important to puree the potatoes while they are still hot
5. While the potatoes are sitting, begin to warm the half and half over the stove at at a low heat and bring to a very light simmer.
6. Fill the food mill with about half of the potatoes and place half of the butter over them.
7. Puree into the medium pot, and repeat with the remaining potatoes and butter
8. Move the pot onto the stove over low heat, and begin to whip the potatoes in a circular motion with a whisk while adding the warmed half and half a quarter of a cup at a time.
9. Season with kosher salt and ground white pepper to taste
Remove the pomme puree from the heat cover and store in a warming dish until ready to serve
---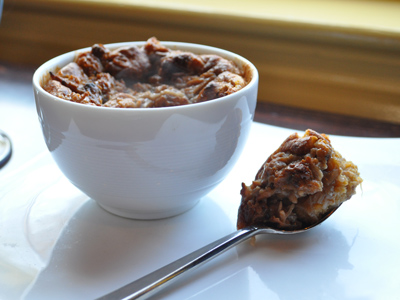 Sweet Potato Soufflé
By: Pastry Chef/Owner Michelle Poteaux at Bastille Restaurant
Serves 12
Equipment: 2-2Qt baking dishes Oven Temperature: 350 degrees F Bake Time: 30 minutes
Ingredients:
Soufflé
1 ¾ cup Heavy Cream 1 cup Brown sugar Salt to taste
4 cups cooked Sweet Potatoes (Yams) 6 Eggs, separated
1 tsp each: Cinnamon and Nutmeg 1 cup toasted Pecan pieces
Topping
1 cup Brown sugar
¼ cup butter
¼ cup Heavy cream
1 cup shredded Coconut, sweet flake 1-cup Pecan pieces
1/3 cup all purpose flour
1 tsp Vanilla (can substitute Rum or Maple extract)
Directions:
Soufflé
Combine cream, brown sugar and salt and bring to a boil, stirring often. Pour over hot cooked sweet potatoes and beat on low speed until smooth and creamy. Beat in yolks, one at a time and finish by adding the spices and pecans. In a separate bowl, beat egg whites with 2 Tbs granulated sugar until glossy and stiff. Fold meringue into the sweet potato mixture and then divide mixture into 2 greased 2-quart baking dishes.
Topping
Combine sugar, cream and butter and cook until thick and bubbly. Add coconut, pecan pieces, flour and extract. Mix together well. To Use: Spoon half of topping mixture over each soufflé dish and then bake for 30 minutes in a 350 degree oven.